A north Indian lunch platter idea with special recipes.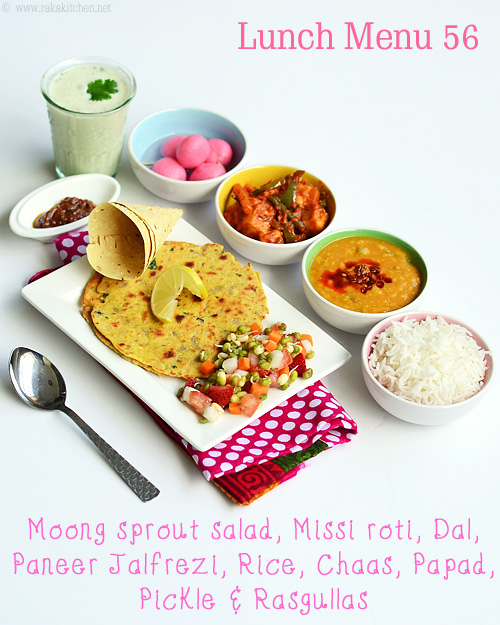 I was craving to have missi roti for past few days. And its been a while I posted lunch menu as well.
So thought of making a North Indian lunch menu. When I posted 50th lunch menu, I thought I should start posting lunch menu with salads to make it healthy.
I sprouted some green moong. I was thinking how it would be if I add strawberry to the sprouts salad, to use few strawberries lying on the fridge.
Actually I thought it would be weird. But when I saw Archana's instagram picture with kiwi fruit, it was quite convincing and she told it would be photogenic as well.
So I tried adding the fruit to the salad, it was really not odd, I liked it.
Here's my lunch menu, check the recipe links below.
Only the process of how I prepared the meal has been written.
Recipe links
To check the recipes  in detail, check the individual links below :
Along with papad rolled like cone, you can check the video of how to roll papad but I used my cone dosa way here.
Rice and some store bought lime pickle. I used pink food colour too for a change to make the rasgulla colourful.
Otherwise same as the rasgulla. I posted a video when I was preparing the rasgullas in my rakskitchen Instagram account.
Made few variations in my dal recipe I posted and masala chaas recipe I posted too. So it may look bit different.
Instructions
Here's how I prepared for the lunch menu: (For full recipes, check the links provided above)
I prepared rasgulla first – after I boiled milk for coffee in the morning, I boiled little milk and curdled to make chenna and hung it for Rasgulla. And before my breakfast work, I finished making this rasgulla. I made very few, so it was made with less time.
When I entered to make lunch, soaked basmati rice first. Soaked frozen paneer in hot water.Then pressure cook dal.
I also prepared chaas and kept refrigerated.
Meanwhile, chopped vegetables for salad and paneer jalfrezi. Chopped onion for missi roti.
Pressure cooked rice, prepared dal tadka and lastly paneer jalfrezi. Tossed salad and kept aside.
Prepared missi roti lastly hot. In the same tawa, rolled papad too.
So now you can serve the lunch with Missi roti, dal, paneer jalfrezi, rice, masala chaas, rasgulla, papad and pickle.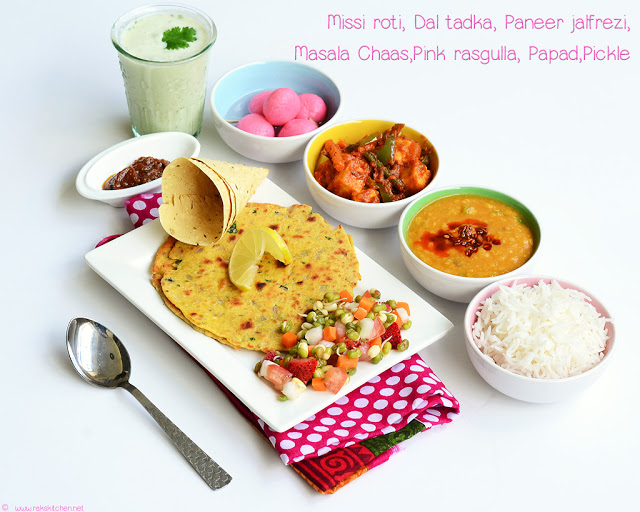 Check out my other paneer recipes too. In place of missi roti, you can make lachha paratha or kulcha or naan or any stuffed parathas or plain Phulkas.
Check out my other side dish for roti too! Meet you all with another lunch menu  later.