Indian style oats drinkable porridge / Kanji for breakfast. with garlic, coconut milk and spices
This is a perfect breakfast to kick start a day,healthy and a spicy,tasty,flavourful one. As a kid I have tasted nombu kanji,from our sweet Muslim neighbor  friends ,very flavorful and healthy one…Its made of raw rice and fenugreek seeds,with lots of garlic,veggies,coconut milk and flavored with fennel and coriander too! They make this Kanji for ending their fasting .
We too make a similar version and call it as vendhaya kanji and it's very healthy,as it contains fenugreek seeds, garlic and coconut milk. It cures stomach/mouth ulcers, we don't add fennel though!
So this oats porridge is fusion of the above two. This recipe is actually inspired by idea of Prathiba's savory oats porridge, I tried recently her version and liked it so much, so thought I should try as my own version.
This kanji is good for feeding mothers too.
Oats kanji recipe
Recipe Cuisine: Indian  |  Recipe Category: Breakfast
Prep Time:15 mins    |  Cook time: 15 mins     |  serves: 2
Ingredients
Instant Oats (I used Quaker easy cook) – ½ cup
---
Garlic – 6 flakes
---
Carrot chopped – 3 tbsp
---
Tomato chopped – 3 tbsp
---
Green chilli,Chopped – 1
---
Fennel, crush slightly – ¼ tsp
---
Coriander leaves, chopped – 2 tbsp
---
Salt – to taste
---
Coconut grated – ¼ cup
---
Or Low fat Milk – ¼ cup
Method
Pressure cook everything with enough water(just add to cover the oats),except coconut in the above ingredients up to 2 whistles.

Open the cooker and mash it well with a masher. Make sure you mash the garlic properly so that the flavor blends well.
Extract milk from the coconut by grinding it with lukewarm water and squeeze out the milk.
Add the extracted milk or low fat milk to the porridge and mix well and just heat a little and serve hot!! Smells great with garlic,fennel,coriander and tastes great with coconut milk! Enjoy hot!!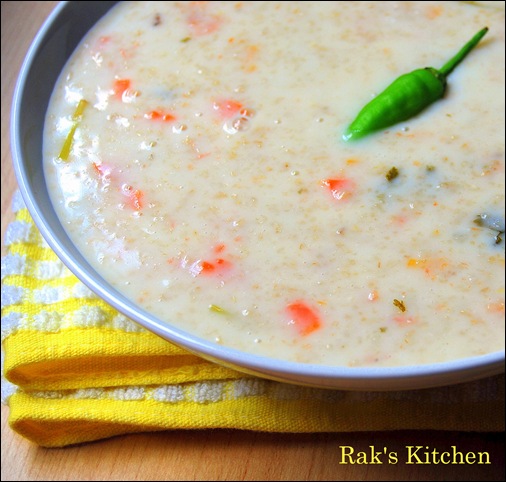 Sending this to EC's  WYF : Breakfast.