Oats savory crackers with shallots, makes it so flavourful just like maska chaska. Step by step detailed pictures.
I always like to bake savoury goodies, but have not done many so far. And have not tried my hands on using oats in baking. I had some bread flour remaining after I used for garlic bread and rolled oats too after trying granola.
So when I saw this oats savory crackers recipe in the daily news paper, I wanted to try this out as it had no fancy items and had the two main ingredients already. I just adapted the recipe and tweaked to suit my taste buds. The result was too good. The flavour is un believable!
Very similar to Maska chaska biscuits we get. Aj also told the same and he loved the crackers. The crackers are not that photogenic, but its really tasty and flavourful! The texture is also crispy as oats adds a nice crunch to this. Bake it off to trust yourself!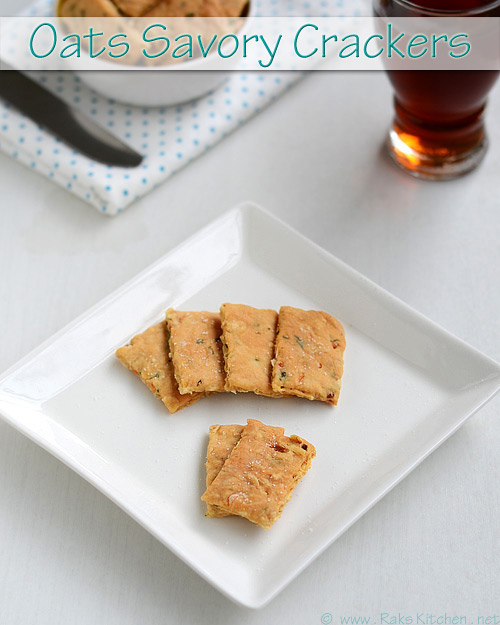 Cooking time : 30 mins | Makes : roughly 40 small crackers
Ingredients
Rolled oats
1/2 cup
Bread flour
1 cup + 2 tbsp
Shallots(small onion)
Chopped very fine
1 tbsp
Coriander leaves
Chopped very fine
1 tbsp
Butter milk
1/2 cup
Butter softened
2 tbsp
Salt
3/4 tsp
Sugar (fine grain)
1 tbsp
Baking soda
1/4 tsp
Oats Savory crackers method:
Pre heat oven for 160 degree C. In a bowl, mix oats, flour, salt and baking soda well. In another bowl, place butter and sugar.
With a hand blender or whisk, beat sugar and butter, to mix it well. Add finely chopped onion and coriander.
Mix well again and then add half of the mixed flour and again mix well.
Then add rest of the flour and knead with buttermilk. You may not need all the buttermilk, so carefully add towards end. The dough should be sticky and not dry with cracks.
In a well floured space, roll out the dough with generous dusting to a thin sheet.
Line a baking tray with parchment paper and carefully transfer the sheet of dough to it and prick with a fork here and there if you want. Draw lines and cut into desired shape (square or rectangle). You need not make the cut parts separate, just bake it as such. Bake at 160 deg. C for 30 minutes or until the crackers turn golden. In between once change the position of the tray.
You can replace coriander leaves with fresh dill leaves.
If you do not know what is buttermilk, beat 2 tblsp of thick curd/ plain yoghurt with one cup water and make buttermilk.
You can sprinkle kosher salt after the crackers are done/ while serving. If so, use lesser salt in the recipe.
Once you take out from the oven, the flour on the top will make it look so white, but after you brush it with butter, the golden colour will be there,So dont worry!
The original recipe method asked to prick the crackers here and there, I forgot to do.
Brush with butter and when it is still warm, break the crackers as cut earlier. Cool down and enjoy your coffee/ tea time. So flavourful!