Onion
Chutney
recipe comes to rescue when there is no tomato or coconut in stock. My mom makes often, MIL too makes the same way. Very simple yet spicy and flavourful. Using small onion (chinna vengayam) is best for this chutney. Top with sesame oil and serve as side dish for idli or any dosa. So here you go for chutney recipe…😎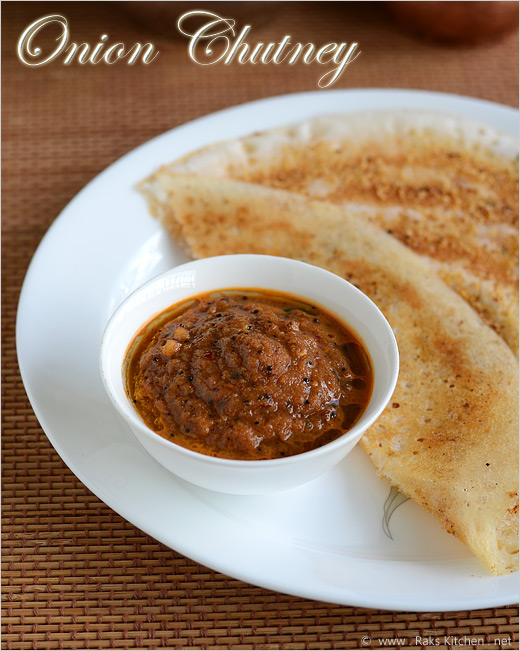 Onion chutney (Vengaya chutney) recipe
Recipe Cuisine:
Indian
|
Recipe Category:
Breakfast (Side dish)
Prep Time
:
5 mins
|
Cook time: 10 mins
|
Serves
:
3
Ingredients
Small onion(shallots), Chopped – 3/4 cup
---
Red chillies – 5
---
Tamarind – 2 pinches
---
Salt – 3/4 tsp
---
To Temper
Oil – 2 tsp
---
Mustard – 3/4 tsp
---
Urad dal – 1 tsp
---
Curry leaves – 1 sprig
---
Method
In a kadai add a tsp of oil fry red chillies and add peeled chopped small onion and fry until golden spots appear here and there. Cool down and grind with little water,tamarind and salt.
Heat oil in kadai and temper with the items given under 'To temper' table and pour the ground mix with little more water. (1/8 cup) Immediately switch off the stove and give a stir. ( you can skip this boiling step too. Just grind and add the tadka to it and mix)
Notes
To avoid bitterness, the tamarind and spice must be balanced.
You can first grind red chillies and then add onion to grind it coarsely. This will avoid bitter taste if at all you have that problem.
If you want you can add 2 tblsp of coconut along with this.
If you want, you can just fry the onion and add red chilli powder instead using the whole ones. This will give a bright red chutney. But tastes different
The colour of mine is deep brown as I have fried my chillies dark and even fried onions until its golden. I used food processor for grinding.
Serve with idli or best with godhuma dosai or else like me Nei podi dosai. Tastes heaven!