I am a big fan of onion rings. Burger king's onion rings. Sadly its been long long time since I had it. I often crave for it. I always wondered how they make onion rings like the one we get at Burger king. I am sure its processed lot. But I had no idea to try it out at home. Last year my friend Sangeeta sent me a
youtube link
for onion rings. But it had eggs. So I didn't bother much to try it out. This year again she sent me the pictures of her onion rings she tried (with egg). I was so tempted but wanted to try it out eggless. I knew I had to substitute eggs with something. So I added baking powder and tried. Made few changes in the recipe so as to suit my taste and according to the ingredients in my pantry. And it worked! I was not that confident when I started to try this one, but it turned out perfect! Aj after coming back from school told it was too good and even after cooling down, it was decently crisp too.
While you try this recipe, I recommend yellow/ white onions for this as it has thick layers, perfect for making onion rings. Easy to separate as rings too.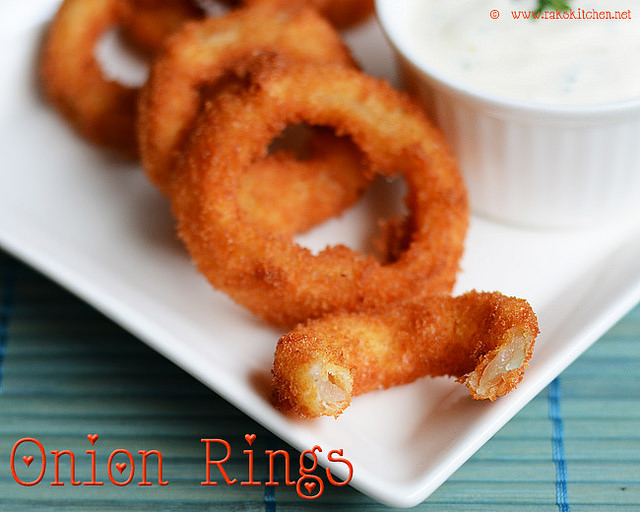 Onion rings recipe
Recipe Cuisine:
Continental
|
Recipe Category:
Snack
Prep Time
:
15 mins
|
Cook time: 20 mins
|
Serves
:
4
Ingredients
Yellow or white onion – 2
---
Maida – ½ cup plus 2 tblsp
---
Baking powder – ½ tsp
---
Corn flour (corn starch) – ¼ cup
---
Oregano or any dry herb – ½ tsp
---
Garlic – 1, finely chopped
---
Milk – ¾ cup approx.
---
Fresh bread crumbs – ¾ cup
---
Salt – as needed
---
Black pepper powder – optional to serve
Method
Slice onion into thick discs and separate the rings as shown in the picture. You can use the middle tiny rings for your regular cooking. In a mixing bowl, first take the flour. Dust all the onion rings well to coat it. This is to ensure batter sticking to the onion later when we dip it in the batter.

Now add corn flour (white corn flour/starch), dried herb, garlic and baking powder to the bowl. Mix well with a whisk to ensure even mixing.

Add milk and mix well to make a batter, neither too thick nor too thin, just to give a even coating to the onion.

Dip each ring in the batter and arrange in a wire rack.

Take bread crumbs in a plate or broad bowl. Coat each dipped onion ring with the bread crumb and arrange in the wire rack or another plate.

Heat oil and put flame to medium. Fry the onion rings in medium flame until golden, turning once in between. Oil heat should be moderate, otherwise it will be darkening soon and wont be crispy. Drain in paper towel and sprinkle salt immediately over it.
Notes
Onion should be sliced in correct thickness. Not too thin, not too thick.
I used self rising flour, so adjust milk accordingly to get the right consistency.
Original recipe used garlic powder, I used fresh garlic, chopped.
Using wire rack helps the batter evenly coated in the onion. If you place in plate, then batter may be too much in the bottom.
Also coating all the rings at a time first in batter and later all the rings in the bread crumb will be less messy. If you dip in batter and immediately coat each ring, then your hand will get too messy, ending up wasting bread crumbs too.
To make fresh bread crumbs, just tear bread slices roughly and grind for 30 seconds in a mixer.
Use fresh bread crumb for best result. Dry ones will not be that useful in this recipe.
Adding salt in the batter will make the onion rings less crispy. Also it may not keep crispy for long time.
Serve hot with sour cream dip and tomato ketchup. Since we dont salt the batter, its better to have a dip like this.