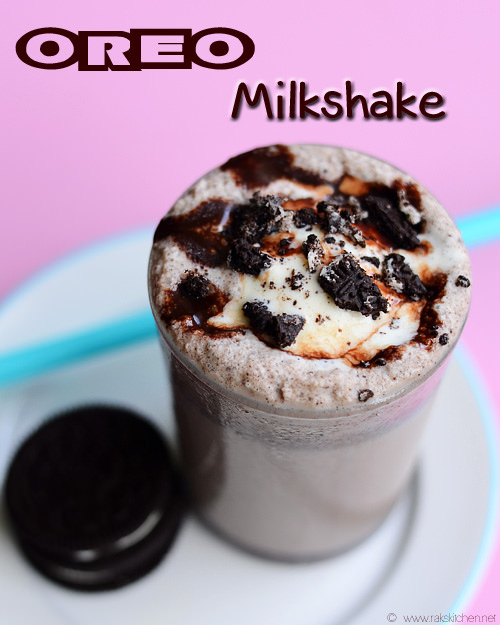 Oreo milkshake is one of the most tempting items for chocolate and oreo lovers. I love chocolates, not all, only very few selected chocolates. But have to admit I am not a big fan of oreo biscuits. I will be feeling like eating mud and a greasy cream in between. But I had to post this to make use of the Oreo biscuits left over in the fridge after I used it for making cookies and cream ice cream. So made this 2 weeks back to finish off it. Aj being cocoa allergic, I cant even make it for Aj, just for the intension to make a post of Oreo milkshake recipe. I am a big fan of Coffee bean Singapore Mud pie drink. I wanted to bring that taste in this. You too try this for your kid if he/ she is a oreo fan. It's so simple, even your kid can make it, fun time for them.
Oreo milkshake recipe
Recipe Cuisine:
Continental
|
Recipe Category:
Breakfast/ Drink
Prep Time
:
5 mins
|
Cook time: 0 mins
|
Serves
:
1
Ingredients
Milk – 1 cup
---
Vanilla or chocolate ice cream – 2 scoops
---
Chocolate syrup (optional) – 2 tblsp
---
Oreo Biscuits – 3
---
Method
Place all the ingredients in the blender and whip(grind) until frothy. Add the oreo biscuits crushed for easy blending.
Notes
I have used chocolate sauce and 2 scoops of ice cream which gives sweetness to this drink. You can use 1 scoop of ice cream alone and skip chocolate sauce and add sugar instead.
You can top with whipped cream.
I used raw milk (pasteurized & Homogenized). If you want you can boil, cool and then make this milkshake.
Serve immediately with more crushed oreo for topping and more chocolate sauce. You can even sprinkle some sugar sprinkles or chocolate sprinkles as topping to make it more appealing for kids.