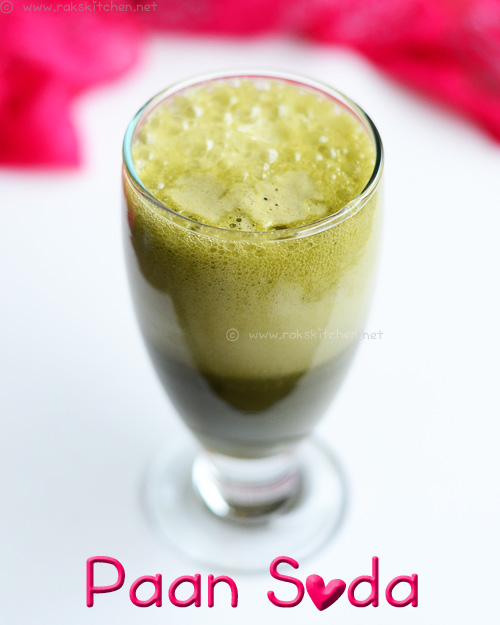 Paan soda with betel leaves, gulkandh, saunf, paan masala and plain soda as main ingredients. I hope many of you, after Janmashtami snacks and sweets need this to help you a bit in digestion. When I went to Salem this year, one day after shopping, we went to the food court in the shopping mall and thought of having something. To my surprise, I found my filter coffee picture and
sambar
idli
picture being used there. My dad asked the guy in the shop, he told the graphics was done by some one else. When I told it's from my website, he asked for the website address and told, later, if needed I can use everything if it's available in my site. For free. They don't understand perhaps!
But coming to today's post, I found this paan soda in their menu and ordered. It was really flavourful and delicious. Everything was well balanced. I just loved it but could not guess the ingredients. There was a pleasant smell in the drink, which I could not recreate. I adapted this recipe from Tarla Dalal's paan shot recipe and made it as soda. It was really good and flavourful, was not the same as I had there but. If I get a chance to taste again, let me see if I could crack it and if I do, I will update. I have used the dark green betel leaves (Karuppu vetrilai) here.
Paan soda recipe
Recipe Cuisine:
Indian
|
Recipe Category:
Drinks
Prep Time
:
5 mins
|
Cook time: 2 mins
|
Serves
:
2
|
Author
:
Raks anand
Paan soda with betel leaves, gulkandh, saunf, paan masala and plain soda as main ingredients. Best way to use up the paan if you have extra

Ingredients
Betel leaves / Paan – 4
---
Gulkand (Rose preserve) – 2 tbsp
---
Fennel seeds / Saunf – 1 tsp
---
Paan masala – 1 teaspoon (I used Nizam paaku – betel nuts)
---
Sugar – As needed
---
Plain soda – 1 & ½ cups
---
Method
Discard the stalk of betel leaves, tear it roughly and place it in blender with all the other ingredients except soda.

Grind it with little water (½ cup). Filter through a metal strainer.

Pour the extract in two serving glasses and top it with chilled soda.
Notes
You can adjust gulkand as per your wish.
You can add a clove or a cardamom while grinding.
Serve immediately. You can fill the serving glass with ice cubes before pouring in the drink.