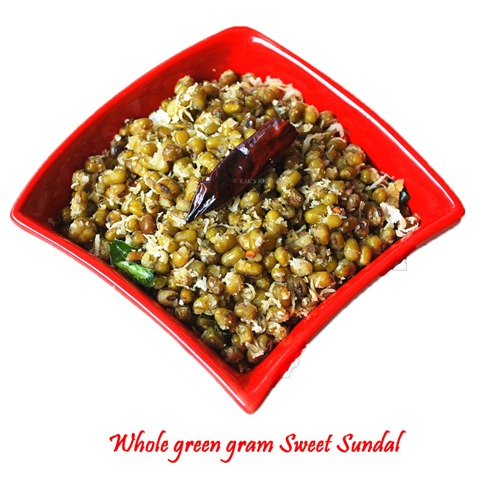 Pachai payaru sweet sundal recipe with step by step pictures. Easy sundal recipe for Navaratri. If you are looking for something different and easy, then this sweet sundal is a must try.
I remember eating sweet sundal when I was a kid at a neighbour's kolu. I was too too young then, just remember something sweet in sundal. And it is either red karamani sweet sundal or rajma sweet sundal. Mom haven't made sweet sundal for navaratri golu I guess. But I felt like trying a sweet sundal for the navratri sundal prasadam and thought of trying this as I knew this will be very flavourful and healthy! I referred Shanthiji's post for making this sundal,I have not made this sweet version before… I made this for my first day of Kolu. Simple,tasty and nutritious! What else we need ? 🙂
Paasi Payaru sweet sundal recipe
Raks anand
Recipe Cuisine:
Indian
| Recipe Category:
Snack
Prep Time
:
1 hr soaking time
|
Cook time: 20 mins
|
Serves
:
3
Ingredients
Whole green gram/ Pachai Payar/paasi payaru – ½ cup
---
Jaggery – 3 tbsp
---
Salt – 2 pinches
---
Grated coconut – 4 tbsp
---
To Temper
Oil – 1 tsp
---
Mustard – ¾ tsp
---
Curry leaves – Few
---
Red chilli – 1
---
How to prepare sundal step by step method:
Soak the green gram overnight,drain water,let water be just to immerse the green gram.

Pressure cook it in medium flame for 3-4 whistles.

Heat a pan with oil and temper with mustard,redchillies and curry leaves.

Add the cooked green gram and give it a stir till the moisture evaporates. Add the salt and jaggery.

Stir until the jaggery blends well, add the coconut and stir for a minute.

Transfer to the serving bowl. Delicious Sundal is ready!
Delicious, nutritious sundal, that even kids would love to have!