Pakoda kadhi - pakodas made with besan dunked in an easy dahi kadhi makes a delicious accompaniment for rice. Pair it up with a spicy sabji and this easy kadhi can be made in a jiffy.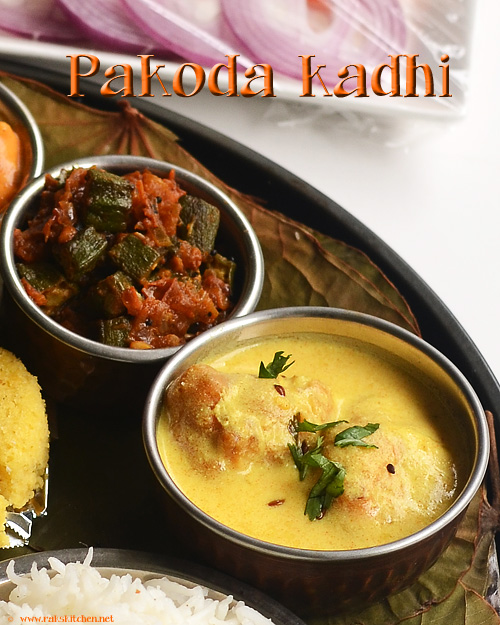 I made this two weeks back for my lunch menu 57 and promised I will post the recipe for this pakoda kadhi.
I followed the same recipe of my friend Sangeeta's dahi kadhi, just added pakoda to it.  My friend adds tomato to this kadhi, I too should try adding it next time.
Pakoda kadhi recipe
Recipe Cuisine: Indian | Recipe Category: Lunch
Prep Time: 15 mins | Cook time: 20 mins | Serves: 3
Ingredients
Sour curd- 1 cup
---
Besan/ gram flour – 1 & ½ tblsp
---
Tomato (optional) - 1
---
Red chilli powder - 1 tsp
---
Salt - As needed
---
Turmeric - ⅛ tsp
---
Oil to deep fry
---
For pakoda
Besan – ½ cup
---
Onion – ½
---
Ginger, finely chopped – 1 tsp
---
Cooking soda – 1 pinch
---
Asafoetida / hing – 1 generous pinch
---
Red chilli powder – ¾ tsp
---
Carom seeds / Ajwain – ½ tsp
---
Coriander leaves, finely chopped - 1 tbsp
---
Salt – As needed
---
To temper
Oil – 1 tbsp
---
Fenugreek seeds – ½ tsp
---
Cumin seeds – 1 tsp
---
Ginger Chopped - 1 tsp
---
Green chilli – 2
---
Asafoetida – ¼ tsp
---
Method
For pakoda, mix every thing needed for pakoda and make a thick batter out of it.
Heat oil and pour the batter using hand or spoon to make small pakodas. Cook in medium flame to ensure even cooking. Drain in paper towel.
In a mixing bow, add curd, besan, turmeric, red chilli powder, salt and turmeric. Beat and mix smoothly.
Add one more cup of water and mix well. Bring to boil and simmer for 15 minutes.
It will overflow, so be careful and make sure you have a large enough boiling pot for it. Once nice aroma wafts, add the fired pakodas.
In a small pan, add oil and temper with the items given under to temper table and add it to the kadhi.
Notes
If adding tomatoes, first temper, add tomatoes and fry till mushy, then add the dahi besan mixture to it and simmer as mentioned.
Using sour curd and using enough spice will give you tasty kadhi. Otherwise the kadhi may taste bland.
Pakora batter should not be too thick. If too thick, it may not be soft and it wont get soaked in the kadhi well.
Ginger and asafoetida are the main flavouring ingredients in this recipe, so be generous adding it.
Add only half the pakoras and add rest later if the kadhi look not enough for the pakoras.
Since it is a mild gravy,  pair it up with a tangy and spicy curry like I did.