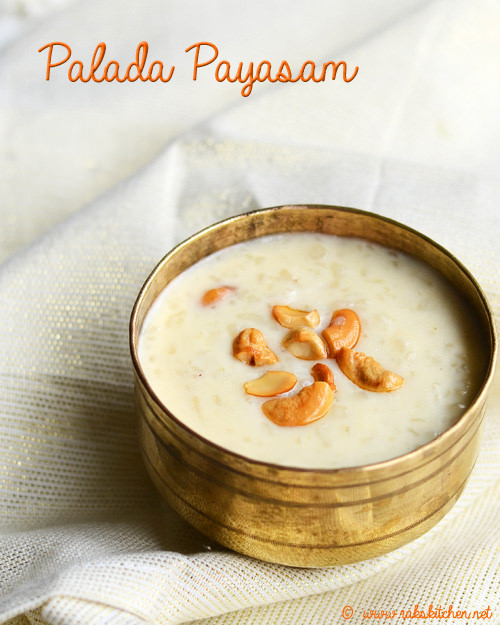 This is a rich dessert (payasam) made with readymade rice ada, milk and sugar as main ingredients. I have tasted ada pradhaman only once in a restaurant and really loved it. I had no clue what it was that time. But never thought of attempting it as I had no idea how to make. Two years back I bought a pack of store bought rice ada. I totally forgot and threw away after the expiry date. This year again I got this one and decided to make ada pradhaman. (I read somewhere that pradhaman are jaggery based and coconut milk based) I then ended up making this palada payasam. I have wish to try making from scratch the ada and making ada pradhaman, one day will have to try that, meanwhile I wanted to try this short cut method using store bought ada. I used Bambino readymade rice ada.
Traditional pal payasam or palada payasam doesn't have any cashees or raisins, so this is just used in my recipe…
Wishing a very Happy Onam too! 🙂
Palada payasam recipe
Recipe Cuisine:
Indian
|
Recipe Category:
Dessert
Prep Time
:
5 mins
|
Cook time: 35 mins
|
Serves
:
6
Ingredients
Rice ada (readymade) – ½ cup heaped
---
Milk – 1 litre
---
Sugar – 1 cup
---
Cardamom – 1
---
Cashew nuts – 8
---
Ghee – 2 tsp
---
Method
Take ½ cup heaped rice ada, wash and drain the water.

Boil 1 cup water and soak the ada in it. Keep closed for 15 mins.
Boil milk with a cup of water and add the soaked ada. Continue heating it over medium flame with constant stirring to avoid burnt bottom.
Once the milk turns cream coloured and thick, add sugar and mix well to dissolve it.
Optiona: Roast cashew nuts in ghee until golden and add it to the payasam along with powdered cardamom. Bring to boil and the payasam is ready.
Notes
You can add fried raisins along with cashews though these two aren't added in traditional recipe…
I add a generous pinch of salt to avoid the flat sweet taste.
As it cools down gets slightly thickened, so switch off accordingly.
It can be served both hot or cold, I love it both ways. Rich and creamy!