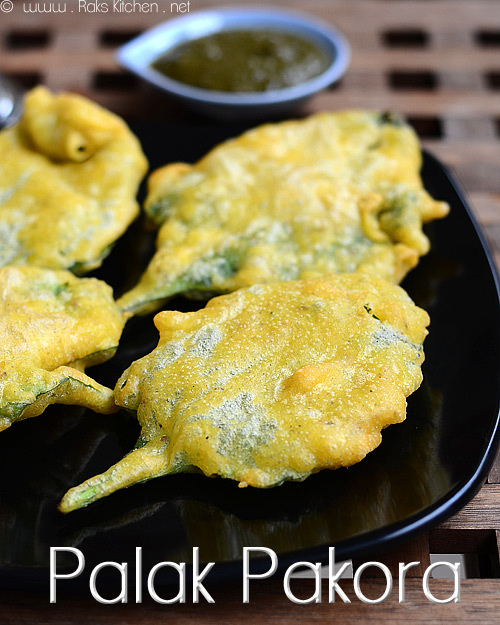 Palak pakora or palak pakoda is an easy evening snack, perfect for tea time. I think there is another version of palak pakora of mixing the spinach leaves with the batter, but I have had this way in a restaurant once and even my MIL makes this when she makes south Indian version with vegetables.(bajji). If you have ready made bajji mix, then this can be made more easily in a jiffy😊. Hang on with this simple snack as of now, I promise to bring you interesting recipe coming up next😉.
Palak Pakora/ Pakoda recipe
Recipe Cuisine:
Indian
|
Recipe Category:
Snacks
Prep Time
:
5 mins
|
Cook time: 10 mins
|
Serves
:
2
Ingredients
Palak/ Indian spinach – 10 leaves
---
Besan/ chick pea flour – ½ cup
---
Rice flour – ¼ cup
---
Ajwain or jeera – ½ tsp
---
Black pepper powder – ¾ tsp
---
Cooking soda/ Sodium bi carb – 2 pinches
---
Asafoetida – 2 pinches
---
Ghee – 1 tsp
---
Oil – as need for deep frying
Method
Separate the leaves from the stalk leaving little bit as shown in the picture. Wash and set aside. Place all the ingredients other than oil & palak , in a mixing bowl.
Add water little by little and mix to a thick batter. It should be thick but loose enough to coat the leaves.
Heat kadai/frying pan with enough oil. When its hot enough (if you drop a drop of batter in oil, it should rise immediately). Dip the leaves one by one and carefully drop in oil. You can fry 2-3 at a time depending on how much oil you use for the frying. Fry both sides until it puffs up and turns crisp and golden.
Notes
You can replace black pepper powder with red chilli powder too. But I love the flavour it lends to the pakoras.
You can use any spinach that are big enough for this pakoras.
Too much water or too much cooking soda will make the pakoras oily.
Drain over paper towels to remove excess oil and serve hot with green chutney as side along with hot tea! Consume hot.