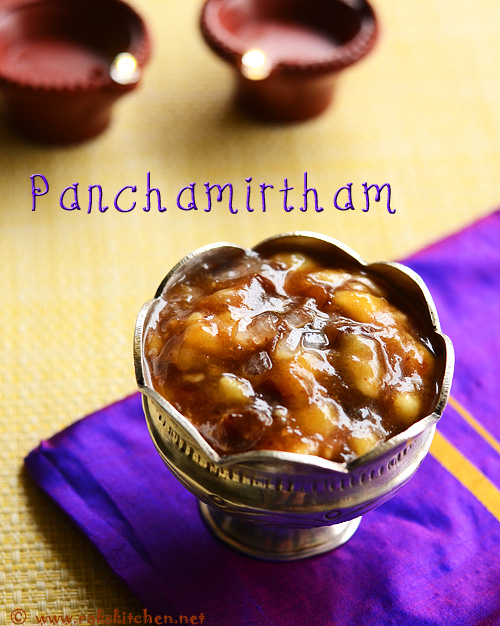 This version of Panchamirtham / Panjamirtham / Panchamrut recipe is made with banana, dates, raisins, brown sugar, honey as main ingredients and flavoured with little cardamom and edible camphor (Pachai karpooram). I understand there is other version which includes milk and curd in panchamirtham. But this is the version mom makes often at home. We add only banana at times, add or reduce one or two fresh fruits. We add jaggery though, but I added brown sugar as I had it in stock also as said in the recipe which I adapted from
here
. I remember my brother makes this when mom is asleep in the afternoons, we both sneak to kitchen and make either this or eat tomato with sugar sprinkled over it. My brother adds bournvita to this as his own touch😋. With Vinayagar chaturthi coming up on 17th September, Thursday. You can make this for offering. Check out the video below!
Panchamirtham recipe
Recipe Cuisine:
Indian
|
Recipe Category:
Sweet
Prep Time
:
10 mins
|
Cook time:0 min
|
Serves
:
2
Ingredients
Banana – 1 (Long variety) / 1 cup sliced
---
Dates – 4, deseeded and chopped
---
Raisin – 1 tbsp
---
Brown sugar – 2 tbsp
---
Honey – 1 & 1/2 tbsp
---
Cardamom – 1
---
Edible camphor – a mustard size edible camphor
---
Sugar candy (Kalkandu) – 1/2 tbsp
---
Ghee- 1 tsp
---
Method
Gather all the ingredients needed for the panjamirtham. Add all the ingredients to a mixing bowl.

Mash well with your hands or using a potato masher. The fruits can be seen, no need to mash smoothly. I added sugar candy lastly.
Notes
If you want you can replace brown sugar with jaggery.
You can skip edible camphor too.
You can add fresh fruits like apple, green grapes.
Adjust sweetness according to you preference. This is eaten as prasadam, so just a spoon. It will be on sweeter side only because of all those honey, sugar and sugar candy along with the fruits.
You can offer this while pooja for even every Friday as prasadam or during festivals like Ganesh chaturthi or Navrathri kolu time prasadam.