Paneer pakora is an easy snack prepared with Indian cottage cheese, besan flour as main ingredients. I have also shared a yummy tomato juice recipe, scroll down to see
Best to prepare over a rainy day or during winters with tea/ coffee or quickly whip up when you have guests.
I also have a stuffed version of this recipe, do check it out and pairs well with green chutney the best.
Jump to:
I never made paneer pakora until I tried these at restaurants. They give softest paneer pakoras.
When we want to quench our sudden craving for North Indian food, we go to a 'walk-able' restaurant near by- Mumtaz Mahal at Downtown east.
My kids favorite is always Gobi Manchurian there. So we order that for him and for ourselves we order either Paneer Pakoras or Paneer tikka.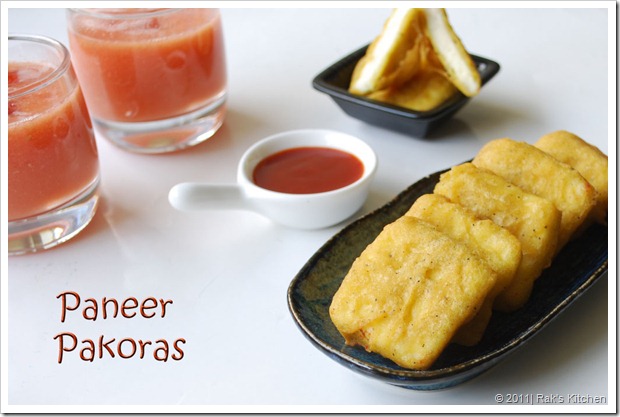 My hubby though he does't like paneer in gravies, he loves starters using paneer.
The recipe is very simple, with simple ingredients, if you have paneer block in your freezer. You can also prepare with fresh paneer for softest results.
Perfect and easy starter idea when you host some guests for dinner. The rice flour adds a crispy result to the pakora.
Ingredients:
| | |
| --- | --- |
| Paneer | 10 – 12 small square slices |
| Gram flour/ kadala maavu | ½ cup |
| Rice flour | ¼ cup |
| Cooking soda | ⅛ tsp |
| Corn flour (optional) | 1 tsp |
| Red chilli powder/pepper powder | 1 tsp |
| Asafoetida | 1 pinch |
| Ghee | 1 or 2 tsp |
| Oil | For deep frying |
| Chaat masala | For sprinkling on top |
Instructions
Mix both flours with water required to a thick paste, along with salt, pepper powder, cooking soda (sodium-bi-carbonate) and ghee.
Thaw the paneer till soft (keep out in room temperature for 2-3 hours or so). Slice it with knife carefully ,not too thick as well as not too thin, to desired shape (square/rectangle/triangle)
Heat oil in a deep frying pan and dip the paneer pieces to coat the paneer well in the batter and deep fry them both sides until crisp and golden brown.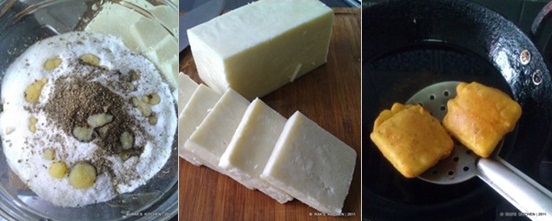 Sprinkle chaat masala on top and enjoy hot with green chutney or any sauce.
Notes:
Adding ghee sure enhances the flavour and makes more crisp. You can skip it too or add oil as well instead. The paneer becomes soft when its deep fried and best to eat it when it is still hot.
How to make tomato juice
This is one of the very few juices my mom makes in my childhood… What I love in this is the cardamom flavor in it! Simple and delicious to indulge…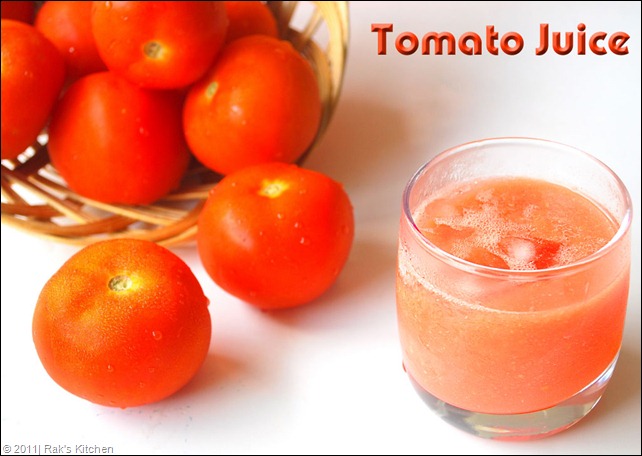 Ingredients
| | |
| --- | --- |
| Tomatoes | 3 |
| Sugar or honey | 1 tbsp |
| Cardamom | 1 |
| Ice cubes | As needed |
Tomato juice preparation
If you don't want the skin then boil water and drop in the tomatoes in it.
Put off the flame and let the tomatoes be in the hot water for 2 minutes. Make sure the tomatoes are immersed completely.
Take out and peel the skin of the tomatoes.
4. Roughly chop the tomatoes and blend it well with cardamom, sugar until smooth and serve cold with added ice cubes…
Notes:
You can simply grind with the skin and filter the juice with strainer too. If you dont like elachi,feel free to skip. Adjust sugar/honey according to your taste buds.