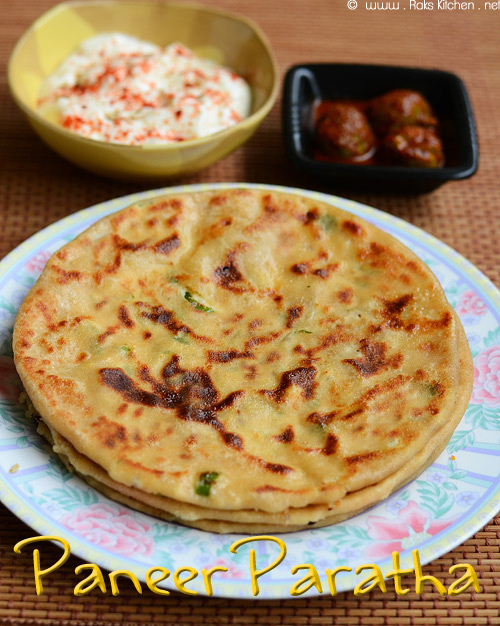 Its a long time since I thought of trying paneer paratha recipe, some how I kept postponing it as I was bit afraid how it will be easy to roll. So today, I atlast tried it and it came out really good. I was thinking, why I was afraid to try this easy paratha so far! It is very easy, especially when you have frozen paneer with you. I just made it like aloo paratha except that I added garam masala in this one. If you are a beginner, you can refer
this video
to see how to roll a stuffed paratha (aloo). Kids will love this as it has the star ingredient as paneer. You can make it in a jiffy when they are back from school or for dinner too.
Paneer paratha recipe
Recipe Cuisine:
Indian
|
Recipe Category:
Breakfast
Prep Time
:
10 mins
|
Cook time: 10 mins
|
Makes
:
6 parathas
Ingredients
Paneer – 2 cups
---
Green chilli – 3
---
Coriander leaves
chopped – 2 tblsp
---
Ajwain – 1/2 tsp
---
Garam masala powder – 1/2 tsp
---
Salt – As needed
---
You can add finely chopped onion too if you like. But make immediately.
For the dough
Atta/ wheat flour – 1 cup
---
Oil (optional) – 1 tsp
---
Water & salt – As needed
---
Method
Mix flour, salt, oil(if needed) and water to make a soft pliable dough (not sticky). Let it set as you prepare the stuffing.
Defrost paneer (or keep immersed in hot water until soft), make sure there is no water, drain completely. Crumble it with hand or like me in mixer. In a mixing bowl, mix crumbled paneer with garam masala, salt, ajwain, green chilli, coriander leaves.
Make 6 equal balls. Knead the dough to make it smooth. Make equal sized balls out of the dough too.
Roll the dough into medium circle and keep the paneer stuffing and pinch all the edges towards the centre.
Flatten the dough with hands, and roll out to thick parathas.
Heat tawa and drizzle some oil. Cook the parathas on both sides over medium flame. Press gently to ensure even cooking while its getting cooked.
Notes
Make sure that there is no water in paneer when you use frozen paneer. I keep out the paneer 1 hour before I am going to prepare. You can follow any method to defrost paneer, only that there should not be any water. Otherwise, rolling might be difficult.
You can use red chilli powder in place of green chillies.
Make sure the dough is soft and pliable. And also both the dough and the stuffing should be in right consistency. If any one is too tight or watery, the parathas may not come out in shape.
Serve hot with dahi (plain yoghurt/ curd) and pickle as I did. I love to have it as such too as its so yummy!