I know I am going to post paneer pulao one day or the other. I rarely make this. Once I tried a version in which I cook paneer together, but ended up in rubbery paneer. It will be soft until its cools down. But later gets rubbery. I add in biryani and love it a lot. Wanted to try pulao with golden fried paneer. Today I thought since Aj at home for lunch and tried, he loved it. I have got many requests to post this and I could see many of my readers search for this particular recipe. So its high time I post this one. Its very easy and simple just similar to veg pulao but add paneer towards the end. Mild pulao, so pair it with a rich or spicy gravy as we did.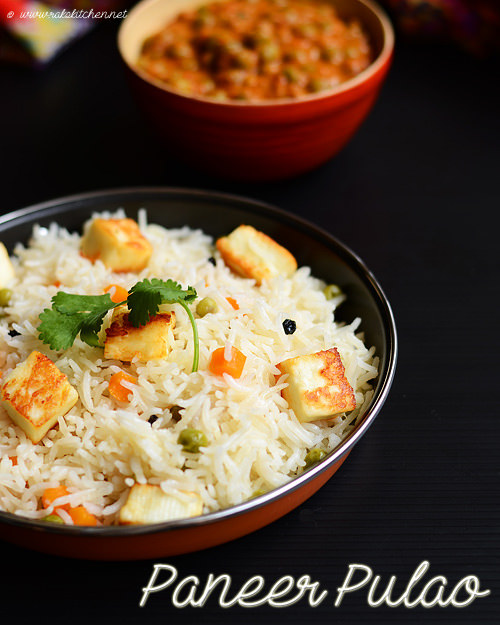 Paneer pulao recipe
Recipe Cuisine:
Indian
|
Recipe Category:
Lunch
Prep Time
:
30 mins soaking time
|
Cook time: 25 mins
|
Serves
:
2
Ingredients
Basmati rice – 1 cup
---
Paneer cubes – 1 & 1/2 cups
---
Peas & carrot – 1/2 cup
---
Onion – 1
---
Green chilli – 2
---
Ginger garlic paste – 1 tsp
---
Coriander leaves, chopped – as needed
---
Salt – As needed
---
Ghee – 1 tsp
To temper
Oil – 1 tblsp
---
Cloves – 1
---
Cinnamon – 1 inch piece
---
Cardamom – 1
---
Black pepper – 1tsp
---
Shah jeera (optional) – 1 tsp
Method
Wash and soak rice for 10 mins. In a pan, add ghee, add well drained soaked rice and fry until it becomes dry.

In a small pressure cooker, add oil, temper with the items given under 'To temper' table, in order.Add onion, green chilli and fry till onion is just transparent, without changing its colour.

Add ginger garlic paste, give it a fry and then add the veggies (I forgot and added along the veggies). Fry till veggies are half done.

Add 1 & 3/4 cup water, required salt and bring to boil. Add the roasted rice. Bring to boil, cover with the lid and cook in medium flame for 2 whistles. I just simmer for 12 – 13 mins as my flame can be put to minimum heat.

Mean while you can prepare the paneer cubes. Let the paneer cubes be tiny for better taste. Toast the paneer cubes (thawed or soaked in hot water previously) preferably in a non-stick pan until golden. Do it in medium flame. You can deep fry too. Keep aside soaked in hot water until use.

Once the pulao is done, drain the paneer and add it to the pulao. Make sure water is completely drained from the paneer before adding.
Notes
You can soak the rice upto 30 mins. While roasting, be gentle otherwise it may break. Also when it starts sticking to the pan, add ghee or stop roasting if its dry to avoid breaking.
Roasting ensures separate grains. But it needs bit more water for getting cooked than usual. I usually add less than this water, but for this recipe, add as mentioned.
When I shallow fried paneer, the oil spluttered a lot, so make sure you use non stick pan and use less oil. Also cook in medium flame for golden colour.
The pulao is very mild, so add green chillies and pepper.
You can add ghee fried cashews along with paneer. Also if you like sweet touch, add ried grapes fried in ghee.
Soaking the paneer in hot water ensures its softness even when cooled down. If you are serving immediately, you can add as such skipping soaking paneer.
Garnish with coriander leaves and serve with a spicy or rich accompaniment. We had with peas masala and it was perfect!