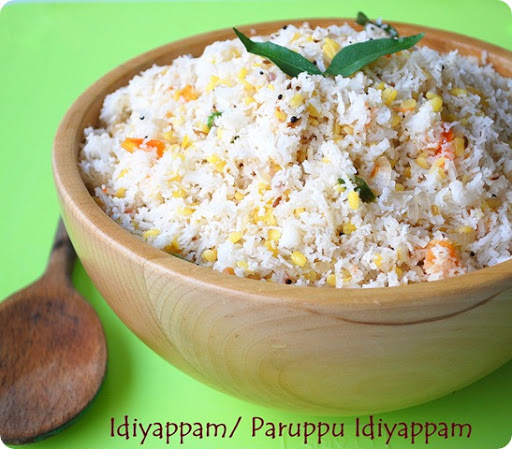 Idiyappam is our family favourite… My kid and my hubby loves the simple sweet idiyappam mixed with sugar and coconut though.. But I love the savoury versions better and don't even touch the sweet version
. I love all the tangy version like lemon,tamarind… And this one too… My mom makes this for dinner and she makes 3 varieties –sweet/this mild paruppu idiyappam /tangy version. Since I make idiyappam for breakfast always,I either make only sweet or with tangy version. This version of paruppu idiyappam takes some work,so I make in weekend mornings. Its healthy too.

For idiyappam dough
Ingredients
Idiyappam flour – 1 cup
---
Water – As needed
---
Sesame oil – 1 tsp
---
Salt – If needed
---
Method:
Take the flour in a wide bowl and mix hot water as needed,using a spatula. Let it get cooled until it turns warm enough to knead.
How much you boil the water to make idiyappam is important. Heat water until small bubbles start appearing everywhere in the bottom of the vessel. i.e; It should be just about to boil and NOT rolling boil. If its rolling boil then the dough will get too much cooked when you make dough and it will be difficult for you to press. Even if its not heated well, then the idliyappam will turn too dry. So let it be just right, which you will learn from experience.

Make a smooth dough without lumps and it should be non sticky. Not too firm too. If its very stiff,then it will be difficult to press through. So add water if needed. Keep covered.

I got these lovely bamboo mesh like things,meant for steaming from my periya maami.

Its very handy,it easy to handle/manage and the cooking is done very fast. I like it!
You can use idly plates very well,so grease the idly plate/mesh with few drops of oil. Press the idiyappam in a circular way,make sure you don't layer too much. Grease the idiyappam press too (inside) to enable easy pressing.
Steam cook these just till its cooked,dont over cook(Takes one minute,if you keep Inside after the water boils),coz that will make the separating part bit tougher.Make batches until u finish the dough.

Now the basic idiyappam is ready.
For Paruppu Idiyappam
Paruppu Idiyappam recipe
Recipe Cuisine:
Indian
|
Recipe Category:
Breakfast
Prep Time
:
5 mins
|
Cook time: 25 mins
|
Serves
:
3
Ingredients
Moong dal/Paasi paruppu – ¼ cup
---
Onion – 1 big
---
Tomato – 1 big
---
Green chillies – 3
---
Coconut,grated – ¼ cup
---
Salt – As needed
---
To temper
Coconut oil(edible) – 1 tblsp
---
Mustard – ¾ tsp
---
Cumin seeds/Jeera – 1 tsp
---
Curry leaves – A sprig
---
Method:
Chop onion,tomato and green chillies.Cook the moon dal just till soft. Don't over cook and mash.. It should be seen as shown in the picture.

Heat a pan with oil and add the tempering items. Add onion and fry till transparent.

Add the chopped tomatoes and fry for a min in medium flame.

Now add the dal and give it a quick stir..

Lastly add the grated coconut and salt and mix well for a minute.

Now the dal is ready

Take the prepared idiyappam in a wide bowl and tear it roughly. Add the prepared dal and mix gently taking care not to mash the idiyappams.

Add few drops of edible coconut oil for extra flavour.You can add sesame oil too while mixing (2 tsp)
Notes
Do not add boiling water to knead dough,it will make the pressing process tough.
If the water is not hot enough,you will get a dry,brittle idiyappam.
So the water should be just hot enough. When it just starts to boil,use it.
When we add sugar or the prepared dal,the idiyappam will be easier to mix by itself,so no need to make the idiyappam separate before mixing. You will get it done while mixing itself.
You can make lemon idiyappam just the way we do for lemon rice. And use pulikaichal for making puli idiyappam.
IDIYAPPAM WITH COCONUT AND SUGAR
Mix idiyappam with coconut and sugar as needed and add elachi powder a pinch and a tsp of ghee if you like. Enjoy Instantly!