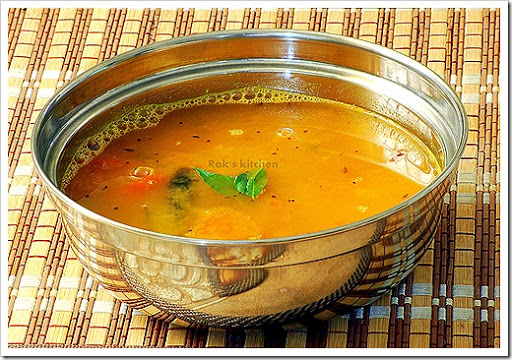 Learn how to make paruppu rasam with garlic, tasty, easy south Indian rasam. Lots of toor dal and crushed garlic together gives a great flavour and taste.
For me, rasam means, I cannot imagine without garlic and coriander leaves, at least one of the above should be there, otherwise I don't like. This recipe for rasam  is quite unusual one, because we use sambar powder for this rasam and not the rasam powder! Our sambar powder has chilli, coriander seeds in majority with toor dal in it. black pepper,cumin seeds, methi seeds, turmeric are also added in our sambar powder in traces. So it is very universal, that we add in all our other south Indian preparations.
This sambar powder is ground in bulk in mills for an year's use. I have posted the recipes of my mom's version and mom in law's version in case you want to check the ingredients.  My mom makes this once in two weeks at least.we use lots of Paruppu (toor dal/thuvaram paruppu) in this one. I made this today for my kiddo and for the first time he had this…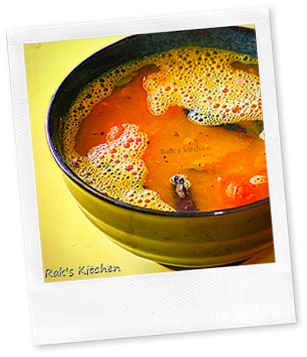 Paruppu rasam recipe
Recipe Cuisine: Indian  |  Recipe Category: Lunch
Prep Time:30 mins tamarind soaking time    |  Cook time: 20 mins     |  Serves: 4
Ingredients
Thuvaram paruppu,Cooked (toor dal) – 1/2 cup
---
Sambar powder – 1 tsp
---
Tamarind – 1 small gooseberry sized
---
Tomato – 1
---
garlic – 10 flakes(I used big variety)
---
turmeric – 3 pinches
---
salt – As needed
To temper
Mustard- 1/2 tsp
---
cumin seeds/Jeera – 1 tsp
---
red chilies – 2
---
curry leaves – 1 sprig
---
Ghee – 1 tsp
Paruppu rasam Method
Pressure cook dal,mash it .Soak tamarind in hot water and extract tamarind juice.
Heat a heavy bottomed pan and temper with the tempering items given followed by tomatoes cut into big cubes.
Fry for a minute or two and add the tamarind juice,turmeric,sambar powder and salt.
Peel the garlic flakes(we should use more garlic,if you use the small variety,increase the number than mentioned) and crush them slightly. Add these into the rasam ,followed by the cooked mashed dal. mix well
when it just starts to boiling and becomes frothy,transfer to the serving bowl and close immediately.
stir before serving , so that the dal mixes well. This rasam is meant not to be clear 😊.so mix well before you serve each time!
Serve hot with rice, ghee.