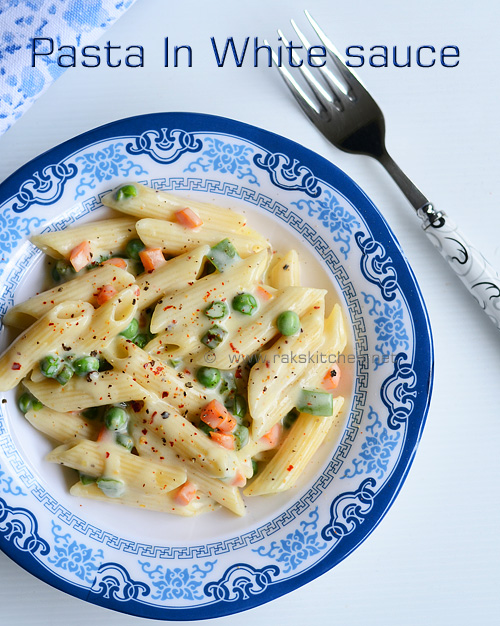 Penne pasta cooked and added to a smooth and creamy white sauce along with vegetables. Last month, a reader sent me a picture for tried and tasted and she said it's pasta in white sauce. I told her I have not yet posted pasta in white sauce recipe in rakskitchen yet. She told she used my stove top mac and cheese recipe. I too have been browsing for pasta in white sauce recipe for long time and felt it is similar to this. Finally today time worked out for me to try this out. It was pretty easy, less cheesy and delicious too. I am sure this will be handy for you all in this Holiday season, either for evening snack or for dinner. Sure kids would love to have this delicious pasta. I made this and had little, kept the rest covered. Aj came back from school and tasted and told it is delicious and had it. I often make mac and cheese but wanted to cut cheese, so finally I got this one for him.
Check out other pasta recipes –
Butter corn pasta
,
pasta muffins
,
Aglio olio
,
Arrabiata pasta sauce
,
Indian style masala pasta
Pasta in white sauce recipe
Recipe Cuisine:
Continental
|
Recipe Category:
Main course
Prep Time
:
5 minutes
|
Cook time: 30 mins
|
Makes
:
2
Ingredients
Penne pasta – 1/2 cup
---
Mixed vegetables – 1/2 cup
---
Salt – 1/4 tsp
---
Sugar – A pinch
---
For white sauce
Butter – 2 tbsp
---
Milk – 1 cup
---
All purpose flour – 1 tbsp
---
Grated cheese (Cheddar or processed cheese) – 1 & 1/2 to 2 tbsp
---
Italian herb – 1/2 tsp
---
Red chilli flakes – 1/2 tsp
---
Mustard powder – 1/4 tsp
---
Nutmeg powder – A pinch
---
Crushed black pepper – 1/4 tsp
---
Salt – As needed
---
Step by step method
Cook pasta as per package instructions – Bring enough water to boil in a vessel, add pasta, required salt to it and boil until pasta is cooked soft. Drain, keep aside.

In a pan, olive oil and sauté chopped veggies, salt and sugar in high flame until its done, without changing its colour. Keep aside.

In a heavy bottomed pan, melt butter and add all purpose flour to it. Fry in medium flame until its roasted, without changing its colour.

Add in milk, constantly stirring and bring to boil. Keep stirring as it thickens when boiled and there are chances of getting stuck at the bottom of the pan.

Once the milk is thick, put the flame to low and add grated cheese. Keep mixing until its melted and smooth.

Add Italian herb (I forget to add and added lastly while serving), red chilli flakes, nutmeg, mustard and salt. Mix well.

Add cooked pasta and vegetables. Mix gently and switch off the flame. All has to be done in low flame. Add crushed black pepper.
Notes
While draining pasta, reserve some cooked water and once the pasta is cooled down, add that water and toss the pasta to prevent it sticking together.
I have used the vegetables I had, you can use sweet corn, or any of your favorite veggies that could go well in this sauce. You can use colourful capsicums too.
After adding cheese, the flame should always be in low.
More cheese, more thick sauce. The sauce gets thicker as it gets cooled.
Serve this colourful and delicious tasting pasta hot! You can use any of your favorite shape like macaroni, fusilli etc.