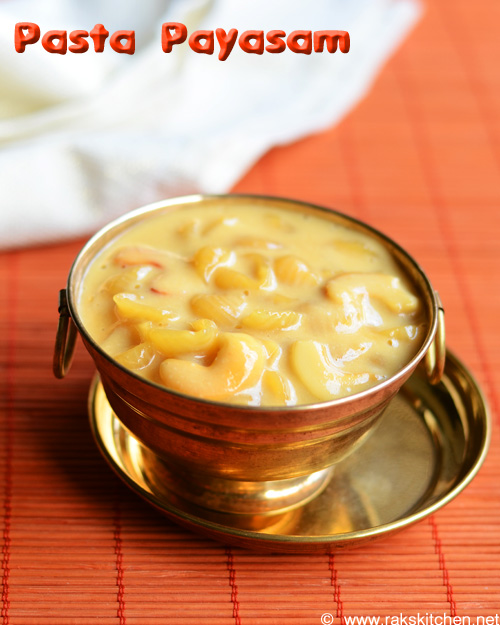 Payasam is a traditional south Indian sweet/ dessert, mostly made with jaggery and rice based or with dal. But when pasta got introduced in south India, many people tried payasam with it. Pasta got various south Indian make overs. My MIL also uses it in poriyals like the one I have posted – Cabbage poriyal with pasta. My FIL always keep saying, how it will be when we make pasta in paal kozhukattai style. So I wanted to make pasta with jaggery as payasam. Two things we have to make sure while making pasta payasam for best taste is, first choose tiny pasta shapes and second, make sure to cook the pasta extra soft. Cheap pasta varieties works best as it is thin and gets cooked faster, blends well too.
Pasta payasam recipe
Recipe Cuisine:
Indian
|
Recipe Category:
Sweets
Prep Time
:
5 mins
|
Cook time: 20 mins
|
Serves
:
3
Ingredients
Pasta, shell shape – ½ cup
---
Jaggery – ¾ cup
---
Milk – 1 cup
---
Corn flour – 1 tsp
---
Cardamom – 1
---
Cashew nuts – 6
---
Ghee – 1 tsp
---
Salt – As needed
---
Method
First boil enough water and cook pasta until soft with little salt. Check pasta package for specific cooking time and instructions.
Boil powdered jaggery in another vessel with water just to immerse it.
Once jaggery completely dissolves, filter it through a metal strainer, in the cooked pasta. Boil for a minute.
Side by side boil milk.
Add the boiled milk to the pasta in low flame. Add corn flour dissolved in a tablespoon of water and add it to the payasam.
Fry cashew in ghee until golden, add to the payasam along with crushed cardamom. Mix well and switch off the flame.
Notes
Choose small shaped pasta for a homogenous taste.
After adding jaggery, pasta wont get cooked. So make sure to get pasta cooked before you add jaggery.
Adding corn flour gives a smooth texture to the payasam.Don't skip it.
Adding salt is important, otherwise it will taste bit bland.
Adjust jaggery as per your taste.
Serve warm or chilled, tastes good both ways!