Paatra (patra) is a snack made with colacasia leaves (arbi / seppankizhangu/ taro leaves) along with spiced besan mixture and tossed to give extra flavour. Sesame seeds, hing and grated coconut add on the flavours to the dish. I always used to stare at the arbi leaves when ever I see it in Mustafa. I know they make a snack with it, but never knew any other details about it. I had a wish to try it out and don't even know the name. Few month back, a reader(Anshi Kaushik) sent pictures of this one and I was so happy, asked her what it is called and how it is made. She was sweet enough to share the recipe. I also referred khana Khazana videos for more details about the recipe.
As I already had a wish to try this one, I totally enjoyed making this snack and Aj too loved to watch me making this. He helped me in picturing step by step pictures as he watched. He liked the taste too and have asked me to make it again. I am also eagerly waiting to try again as I like to make this as well as eat this. The process involving spreading the besan mixture is my favourite part as it was similar applying sunnambu in vetrilai (lime over betel leaves). I have seen, few times done it for my grandma during my childhood and only this is in mega size 😃.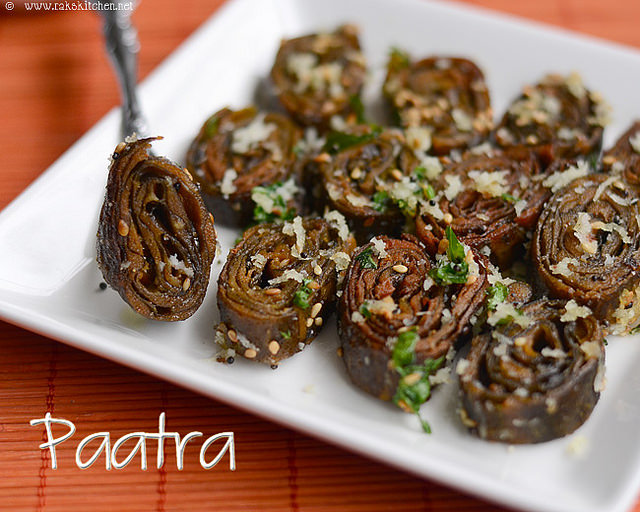 As it was my first time, only mistake I did was overcooking it. So the colour turned bit darker. But it did not look as dark as it is looking in the pictures as you could see in few of the step by step pictures, it was better. Due to lighting and camera settings it looked more darker in the pictures. I will try to update when I make next time.
Full video for paatra recipe:
Patra recipe
Recipe Cuisine:
Indian
|
Recipe Category:
Snack
Prep Time
:
20 mins
|
Cook time: 30 mins
|
serves
:
3
Ingredients
Colocasia leaves / Arbi leaves – 4
---
Chickpea flour / Besan – 1 cup
---
Red chilli powder – 2 tsp
---
Turmeric – ¼ tsp
---
Cumin seeds powder – ¼ tsp
---
Coriander seeds powder – 1 & ½ tsp
---
Garam masala powder – ¾ tsp
---
Green chilli ginger paste – 1 tsp
---
Tamarind paste – ½ tsp
---
Cooking soda – 1 pinch
---
Salt – as needed
---
Jaggery – 2 tsp
---
Grated coconut – 3 tbsp
---
Coriander leaves – as needed
---
To temper
Oil – 3 tbsp
---
Mustard – 1 tsp
---
Sesame seeds – 1 tbsp
---
Asafoetida – ¼ tsp
---
Method
Mix besan, Red chilli powder, Turmeric, Cumin seeds powder, Coriander seeds powder, Garam masala powder, Green chilli ginger paste, Tamarind paste ,Cooking soda, Salt, Jaggery with little water in a bowl to a thick batter.

Remove the stalk of the leaf and remove the excess thick vein in the middle of back of the leaf too. This will ensure the leaf gets cooked evenly and makes rolling easy later.

Keep the leave spread over a clean counter top, with the back of the leaf up. Spread the mixed batter evenly and as a thin coating to cover the back of the leaf as shown in the picture.

Now put another leaf over it upside down. Spread the batter same way.

Fold the sides from all four sides to make a rectangle/ square.

Roll it tightly as shown in the picture.

Transfer to a steamer and steam it for 15- 20 minutes or until a knife inserted comes out clean. Here's where I over cooked as I forgot to check in between, so keep an eye after 15 mins.

Let it cool once done and cut it into thick discs.

Heat a pan with oil, splutter mustard, sesame seeds and add asafoetida in low flame. Add the cooked, cut leaves and toss gently. Do not over do.

Let it simmer for 5 mins, turning in between so that both sides gets a nice crispiness. Garnish with grated coconut and coriander leaves (Optional)
Notes
Make sure the batter is not runny, just thick enough to coat the leaves.
You can cover the rolled leaves with batter and steam too.
You can skip the last step and just toss the paatras to coat the tadka items without waiting to get crisp.
Make sure you add enough salt, spice to the batter, otherwise it will be very bland.
Instead tamarind paste, you can add lemon juice too.
Serve with spicy green chutney and its a winner!