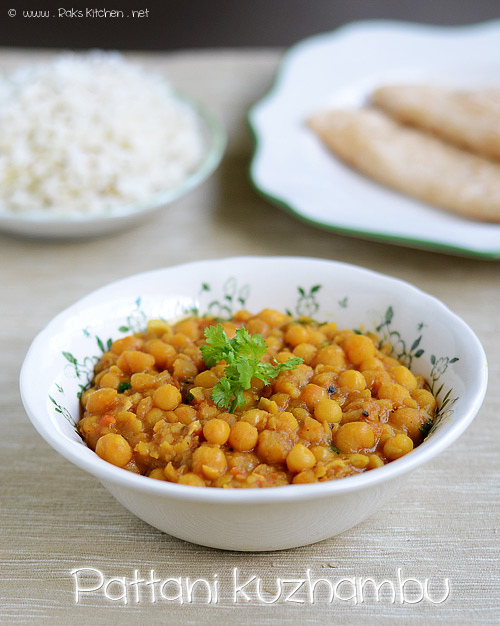 I got this recipe from Raji as Pattani kuzhambu, can be called peas masala as well. I already have a
peas masala
recipe, but this one is a very easy one. And as Raji told, its perfect for crispy dosas. Though I made it for
Jeera rice
the other day for Aj and had with roti myself, its supposed to be eaten with dosa or puri. My family is not yet used to have masalas for
idli
/ dosa except for
kadappa
. I very rarely make that one too. The first thing I like about this pattani kuzhambu recipe is its so simple without any too much of over powering masalas. Just minimum ingredients, but oh my! It smell great. When I was cooking, Aj came to kitchen and asked amma what are you cooking? It smells great!. So try this simple one, just soak the peas and you can make it fast too.
Pattani kuzhambu recipe
Recipe Cuisine:
Indian
|
Recipe Category:
Sides
Prep Time
:
10 mins + Overnight soaking
|
Cook time: 25 mins
|
Serves
:
4
Ingredients
Dried peas – 1 cup
---
Onion (large) – 2
---
Tomato – 2
---
Turmeric – ¼ teaspoon
---
Sambar powder – 2 teaspoon
---
Oil – 1 tblsp
---
Salt – 1 teaspoon
---
Coriander leaves – 1 tbslp
---
To grind
Garlic – 5
---
Ginger – a small piece
---
Pepper – ½ teaspoon
---
Jeera – ¼ teaspoon
---
Method
Soak dried peas overnight in enough water.(i.e; if you want to make in the morning, soak night, if you want to make in the night, soak in the morning). Pressure cook directly in a small cooker with a cup of water for 2 whistles.
Mean while peel garlic and grind it with ginger,pepper and jeera along with very little water if needed. Make sure you use a very small piece of ginger.
Transfer the cooked peas to another vessel and in the same pressure cooker, add oil and finely chopped onion and fry till transparent. Add the ground ginger garlic paste and fry till raw smell goes away. Do it in medium flame.
Then add finely chopped tomatoes, turmeric, sambar powder and salt. Fry till it becomes mushy.
Add the cooked peas, add a cup of water and mix well. Pressure cook for another whistle in medium flame. You can simmer for 15 minutes as well instead of again pressure cooking. Water quantity may vary. Garnish with chopped coriander leaves generously.
Notes
After opening the pressure cooker in the last step, you can give it a boil for a minute. You can add coriander leaves and some torn curry leaves at this stage while boiling.
The gravy by itself is rich as the peas gets cooked and gives a rich texture. But if you are making it for roti, you can make it even more richer by adding ¼ cup milk at the end. Just mix and do not boil.
You can adapt this recipe and keep it as base for even making potato masala. Turns out great.
Since we use a lot of garlic, it helps to nullify the gastric quality of peas as well.
This kuzhambu/ Masala is perfect as side dish for crispy dosa . we can also eat it with roti, puri or even with mild pulav.