I always love all mixed rice varieties. I don't even need any side dish,just a papad or vadavam is enough for me and I eat unlimited . For the same reason I rarely make,since vj also doesn't prefer any mixed rice variety. When it comes to food, me and Vj are just contrast. I though rarely give him once in a while for his lunch. And I beg to adjust for a day. But today I just made for myself and made it spicy as I wanted to eat something spicy to melt down my blocked nose.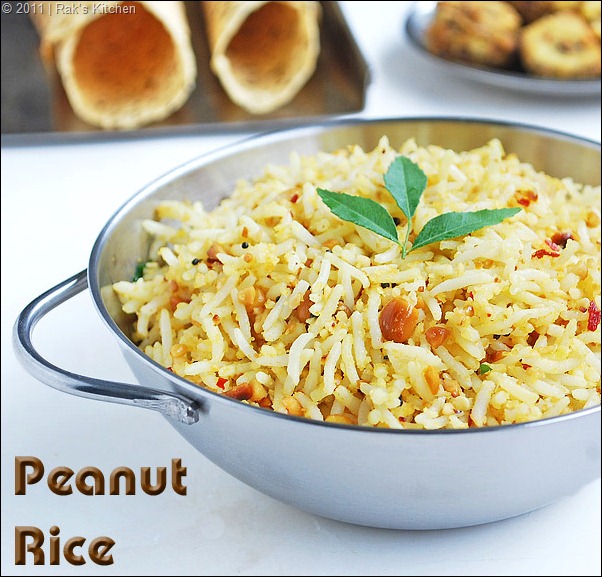 Peanut rice recipe
Recipe Cuisine:
Indian
|
Recipe Category:
Lunch
Prep Time
:
5 mins
|
Cook time: 25 mins
|
Serves
:
3
Ingredients
Rice – 1 cup
---
Roasted peanuts – ½ cup
---
Turmeric – ⅛ tsp
---
Ghee/ sesame oil – 1 – 2 tblsp
---
Salt – As needed
---
Sesame seeds – ¾ tsp
---
Red chilles – 3
---
Grated coconut/ koppara – ¼ cup
---
To Temper
Oil – ½ tblsp
---
Mustard – 1 tsp
---
Urad dal – 1 tsp
---
Channa dal – 1 tsp
---
Curry leaves – 1 sprig
---
Method
Pressure cook rice and cool down to make the cooked grains separate by adding required salt and ghee/sesame oil. De skin the peanuts. Roast the sesame seeds,chilli and lastly add the coconut and fry until golden.

Powder the chilli first roughly and then add other roasted items and peanuts. Grind into a coarse powder.

Temper with the items given under 'To temper' table and add turmeric to it.Add it to the rice and mix well.

Notes
I always soak rice for long hours to cook it with very less water and that gives u separate grains as well as soft to eat.
You can even add more sesame if you like to have that flavour dominating.
The ingredient ratio is different from the original recipe to adjust my taste.
Serve with papad or any vadams, or if you like with any kootu or spicy curry.