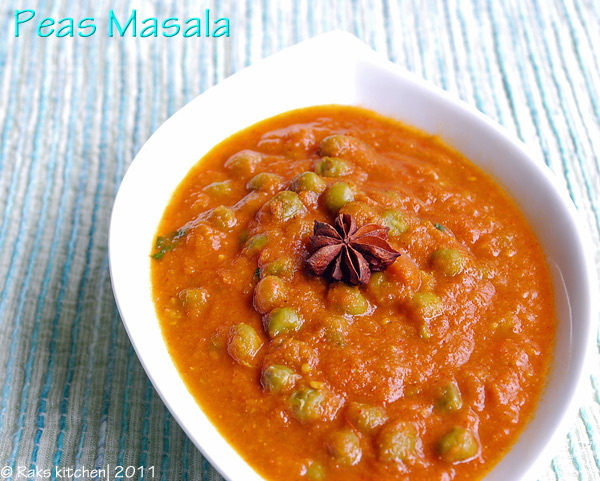 I had no idea that peas masala could be so delicious if made at home, until I tried on my own. Before that, I always had tasted in restaurants, as an add on along with other gravies and never liked it that much. This is an easy recipe except the frying part, as it splutters a lot while frying, but I cover and fry the masala and overcome the spills. It goes well with roti or naan , even I eat it with steamed basmati rice or mild pulao 's side dish. I use frozen peas, we can also use fresh green peas and the dried ones for the same recipe.
I think the addition of roasted & powdered jeera and fenugreek/methi seeds adds on a great flavour to this masala. I love it. Thanks to the SIL who introduced this recipe. I just tweaked the method a bit for my convenience, otherwise no big changes. So here goes the recipe, I am sure you would love it!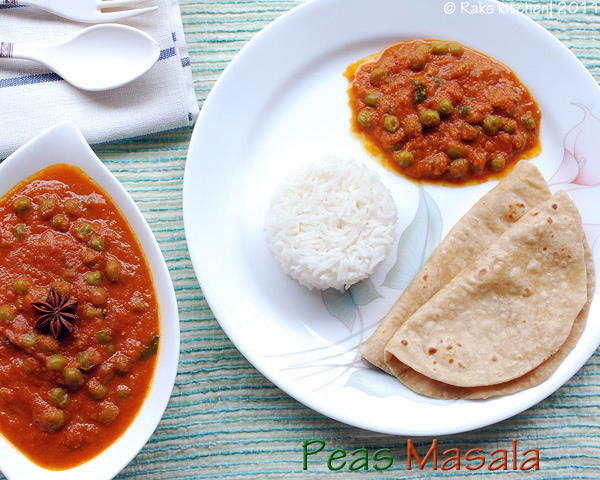 Green peas masala recipe
Recipe Cuisine:
Indian
|
Recipe Category:
Side dish
Prep Time
:
5 mins
|
Cook time: 25 mins
|
Serves
:
4
Ingredients
Green peas, fresh or frozen or dried* – 1 & ¼ cups
---
Onion – 3
---
Tomato – 5
---
Ginger garlic paste – 1 & ½ teaspoon
---
Jeera & methi/fenugreek seeds – ¼ teaspoon each
---
Red chilli powder – 1 & ½ teaspoon – 2 teaspoon
---
Dhaniya powder – 2 teaspoon
---
Garam masala powder – ½ teaspoon
---
Coriander leaves, chopped – 2 tblsp
---
Sugar – A pinch
---
Salt – as needed
---
*
Soak over night and 1 cup is enough…
To temper
Oil – 2 tblsp
---
Cinnamon – 1 inch piece
---
Elachi – 1
---
Cloves – 2
---
Method
Golden roast methi and jeera in few drops of oil in a pan. Powder it using hand mortar and pestle or you can simply crush it using a rolling pin. Chop onion and tomato roughly, fry them with a teaspoon of oil until the the tomatoes turn mushy. Cool and grind.I dint had GG paste, so I added 3 cloves of garlic and a piece of ginger along this frying.

Heat a small pressure cooker/pressure pan with the oil and temper with the items given under 'to temper' table. Add the ground onion tomato and fry covered in medium flame until it reduces in volume. Say 4-6 minutes. Add the masala powders and turmeric. Fry till oil separates.

Add the peas and add enough water (1 & ½ to 2 cups) and add salt and sugar. pressure cook for 2 whistles.

Open once pressure is released and add the powdered jeera and methi( I had methi powder already) and just give it a boil, garnish with coriander leaves.
Notes
Better cover the masala while it is frying as it splutters a lot.
Serve hot with butter or cream topped on the masala, with roti or rice/pulavs, yummy!