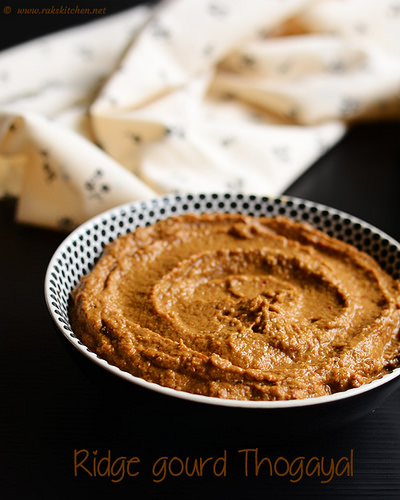 We usuallu make only this ridge gourd gravy for rice which we call it as chutney (consistency is more like
sambar
/ kuzhambu) but haven't tried making thogayal. I have only once tried with it and this is the second time I am trying. This time I was in dilemma on waht to make
gravy for rice
or
sabji for chapati
,but thought of giving it a try and post here too. It turned out really good with rice. I had some free time yesterday, so tried taking a video too. Very easy recipe with simple ingredients.
Peerkangai thogayal recipe
Recipe Cuisine:
Indian
|
Recipe Category:
Lunch
Prep Time
:
15 mins
|
Cook time: 20 mins
|
Serves
:
6
Ingredients
Ridge gourd – 1
---
Red chilli – 9
---
Urad dal – 2 tbsp
---
Tamarind – 1 tsp tightly packed
---
Asafoetida – ¼ tsp
---
Oil – 1 tbsp
---
Salt – As needed
---
Method
Remove the hard ridges in the ridge gourd. No need to peel all the green skin, you can leave it behind.

Wash and cut into strips and then chop it roughly.

Heat kadai with 1 tsp oil, roast in medium flame – red chilli, asafoetida and urad dal until urad dal changes into golden in colour. Keep aside.

In the same kadai, add the chopped ridge gourd, oil and fry for few minutes. It will leave out water and get cooked. Add tamarind in between to soften the tamarind to make it grind easier. Cool down.

First powder red chilli, urad dal, asafoetida with salt.

Then add the sauteed ridge gourd and grind smoothly. No need to add water.
Notes
You can peel off the skin completely too. Few people make it with skin alone I guess, but haven't tried that.
Add more chillies to balance tamarind and the ridge gourd. Ridge gourd has a sweetness by itself.
My chopped ridge gourd was roughly 3 cups.
Mix with rice, sesame oil and enjoy. Ghee also goes well with this.