After few breakfast menu, I wanted to post
lunch menu
too, so I clicked this meal I made yesterday. I was feeling like having something with
paneer
so decided to make
paneer bhurji
and phulka for lunch. But both Aj and Vj are not big fan of paneer bhurji. So made a side dish with the veggies I had in my fridge that both of them eat. I made
this one
, it is very similar to dal. I had many fresh fruits and wanted to make a fruit salad, but then I just kept strawberries as it was about to get spoilt. I finished clicking and had a hearty meal immediately. This menu is very easy, even bachelors can try this.
Lunch menu 33
Recipe Cuisine: Indian | Recipe Category: Lunch
Prep Time: 20 mins | Cook time: 45 mins | Serves: 3
Pressure cook dal and rice first. Mean while which you can prepare atta for phulka and keep aside.
Chop one onion each for dal, aloo bhindi, paneer bhurji. Tomato for dal and paneer bhurji (I added tomato and skipped lemon juice in my paneer bhurji recipe)
Capsicum, green chilli, coriander leaves etc ; keep it ready and keep paneer immersed in hot water.
By now dal would have been done and prepare dal first. Then prepare aloo bhindi.
Next is paneer bhurji and make sweet lassi*, keep refigerated.
Lastly if you want any, cut some fruits and before eating, make hot phulkas, Papad.
*For sweet lassi, using whipper blade attachment in tall jar of you mixie, whip thick fresh not sour curd, sugar, elachi and 2 drops of rose essence. You can add malai if you want to make it rich.
Here is the lunch menu with Phulka, paneer bhurji, rice, dal, pickle, papad,fresh strawberries and sweet chilled Lassi.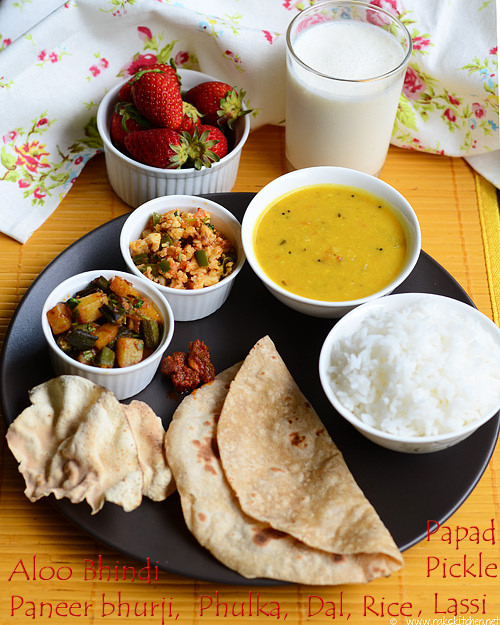 Check out the recipes
Enjoy your weekend!