Pidi karunai kizhangu podimas recipe, a simple recipe using karunai kizhangu. We call this pidi karunai kizhanghu. Learn how to make this healthy side dish for lunch.
This kizhangu have a tendency to give you a itchy feeling in your tongue,when eaten.But proper cooking removes that tendency. My mother, MIL says, buy this and keep it for atleast 2 weeks before cooking,which also help.When we are cooking , we have to use correct proportion of lemon juice/ tamarind extract.
But its very good for our health…like its good for curing loss of appetite, bleeding piles, constipation. So here's the recipe. I don't know how exactly people call this in English…I think its called yam .Its smaller in size like potatoes…Here's the picture.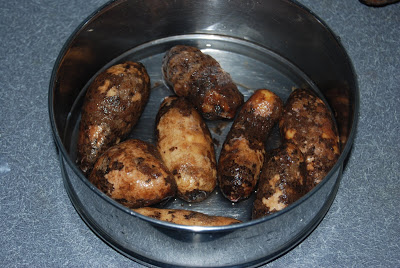 Pidi karunai kizhangu podimas recipe
Recipe Cuisine: Indian  |  Recipe Category: Side dish
Prep Time:  10 Mins    |  Cook time: 30 mins     |  Serves: 2
Ingredients
Pidi karunai kizhangu – 8
---
Lemon juice – 1 & 1/2 tsp
---
Onion – 1
---
Green chilli – 6
---
Grated coconut – 3 tbsp
---
Oil – 2 tbsp
---
salt – As needed
---
Mustard – 1/2 tsp
---
Urad dal – 1 tsp
---
Curry leaves – 1 sprig
---
Coconut oil – 1/2 tsp
---
Method:
Pressure cook the kizhangu upto 3 whistles. Cool down and peel off the skin and mash it with your hands. Add salt and lime juice and mix well,check for salt and keep aside.
Chop the green chillies and onion.
Heat a kadai and add oil,when hot add mustard,when it splutters,add urad dal, followed by curry leaves,green chillies and onion.
Fry till onion turns transparent and light pink. Add the mashed kizhangu, kept aside.
Fry  till moisture evaporates and gets golden roasted here and there. May take little long time but patiently do it in medium flame stirring occasionally. Lastly add coconut oil(If using) and grated coconut and cook until dry and aromatic.
Now transfer to the serving bowl!Its ready as an accompaniment for rice ! Karunai kizhangu podimas!