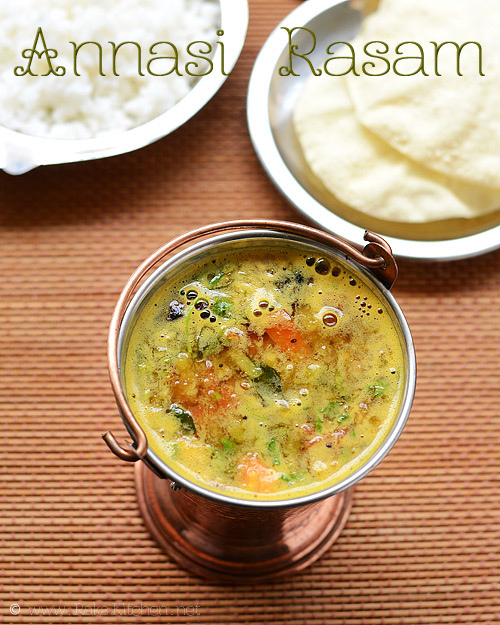 I have tasted pineapple rasam only in marriages or in restaurant lunch menus. And definitely it is very unique by its taste and flavour. But neither mom nor MIL make this in their kitchen. But I wanted to try and post in Rak's kitchen, so referred to the cookbook mom gave and tried. Both me and Vj liked the rasam, I dint tried with Aj yet. I always love pineapple flavour. Be it pineapple juice or pineapple
kesari
, I love the fruity smell. The best thing I like in fruit salad with ice cream they serve in Saravana bhavan is pineapple 😊. So wanted to try this rasam with my favorite pineapple in it, for a long time. Atlast I tried and here is the recipe I adapted to suit my taste and convenience. Sure you can impress your guests with this one, inspite of the usual
rasams
.
Pineapple rasam recipe
Recipe Cuisine:
Indian
|
Recipe Category:
Lunch
Prep Time
:
10 mins
|
Cook time: 15 mins
|
Serves
:
4
Ingredients
Pineapple – 2 rings/ slices
---
Tomato – 2
---
Rasam powder – 1 tsp
---
Turmeric – 1/8 tsp
---
Cooked toor dal – 1/2 cup
---
Salt – As needed
---
Curry leaves – 1 sprig
---
Coriander leaves – 2 tblsp
---
To grind coarsely
Pepper – 1 tsp
---
Jeera – 1 tsp
---
Garlic – 4 flakes
---
To temper
Oil – 2 tsp
---
Mustard – 1 tsp
---
Fenugreek seeds (optional) – 1/2 tsp
---
Red chilli – 2
---
Asafoetida – 1 pinch
---
Method
Pressure cook dal and mash it and keep aside. Powder pepper, jeera and garlic coarsely. Keep aside.

Grind one ring/slice of pineapple to paste and keep aside as well.

In a bowl, mash 1 tomato and add 1 cup water. Chop other tomato and pineapple slice finely. Mix salt, 3/4th of the ground pepper, jeera and garlic, ground pineapple, rasam powder and turmeric with the mashed tomatoes.

In a kadai, temper with the items given under 'To temper' table, followed by curry leaves. Add the reserved 1/4th part of jeera, pepper and garlic powder and give a quick stir.

Add chopped tomato and pineapple and fry for 3-4 minutes in medium flame.

Add the mixed items we kept in step3 and enough water to adjust its consistency. Bring it to boil. Add cooked dal.

Top with chopped coriander leaves and when the rasam is about to boil/ raises frothy, switch off the flame and cover immediately.
Notes
Tangy pineapple is apt for this rasam.
Pineapple rasam can be made along with lemon also. I will post that version some other time.
Serve the flavourful rasam hot, with rice and appalam, along with the other poriyals/ curry.