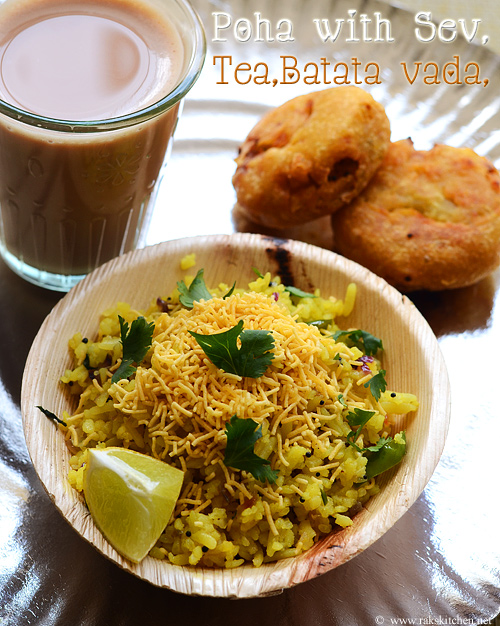 When I posted kanda batata poha, I got few comments they eat it with sev topped over it. So wanted to try that way for a long time. I always wondered what combo I can post for a north Indian breakfast and parathas came to my mind, but I wanted to post something with Poha. We make south indian version of poha like lemon poha, tamarind poha, poha upma etc. But when I went to Pune and had kanda poha, I loved the variation. The poha I make is is too soft in texture, but the one I tasted in pune was not too soft, it had some texture which I liked. Then only I tried after coming here and posted my Kanda batata poha. When I was thinking what to post along with poha, my friend Sangeeta suggested for batata vada her mom makes. Though she asked me to post this as snack idea, I am posting as a breakfast idea. This batata vada I made for this combo is similar to my Aloo bonda recipe. Only that I shaped it as patties. Sangeeta told her mom first fries the vada, takes it out, press between kitchen towels gently and again fries it to give it a crispy texture.
Check out the recipes
I made the poha with only onions as I made batata vada. I first prepared the aloo stuffing, batter for that ready. Put the potato for cooking in pressure cooked, chopped onion for the vada and poha. Kept all the other ingredients like chilli, coriander leaves, ginger (for tea) etc.; ready. Later prepared the poha. Lastly you can prepare vada and tea, to serve hot.
Have a nice weekend 🙂!