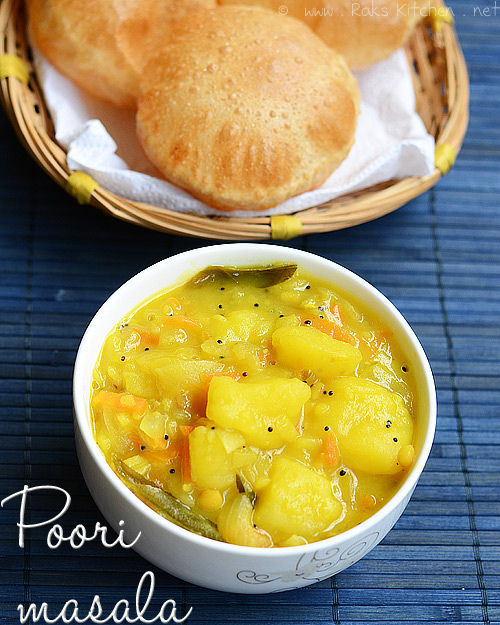 Poori masala recipe easy yet the perfect choice for poori, made for each other. With step by step pictures of preparation. So simple yet perfect with poori and even dosa.
I never thought I should post this potato masala (poori kizhangu) for poori in my blog. But I realized people google specifically from my blog using my blog name. So thought I should post this soon and 2 weeks back, I made this for a weekend breakfast. So that it can be useful for people who are new to cooking, bachelors and those who want to learn some basic south Indian breakfast recipes. I hope newly married and who are interested in cooking and in a learning process may find this helpful.
I make this when I am lazy to make potato kurma / cauliflower kurma or mixed vegetable kurma for puri as my kid likes only kurma for puri. Even this poori kizhangu, he just calls as yellow kurma. I make this aloo masala with few variations and this is so versatile and use this as guidance you can make a lot of variations too according to your taste. I will mention the variations in the notes section.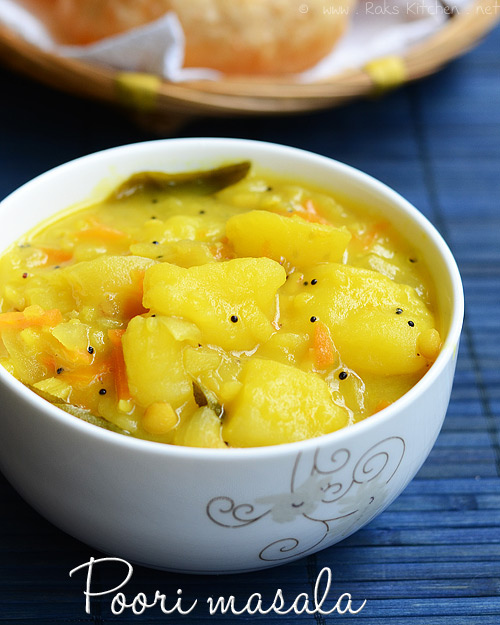 poori masala recipe
Recipe Cuisine: Indian | Recipe Category: Breakfast
Prep Time: 10 mins | Cook time: 20 mins | Serves: 4 | Author: Raks anand
Learn how to make south Indian poori masala recipe easy yet the perfect choice for poori, made for each other. With step by step pictures of preparation. So simple yet perfect with poori and even dosa.

Ingredients
Potato – 4
Onion – 3
Green chilli – 4
Chopped ginger – 1 tbsp
Carrot – 1/2 chopped finely
Turmeric – 1/4 tsp
Salt – As needed
Sugar – 1/4 tsp
Water – 3 cups + as needed
Corn flour (optional) – 1 tsp
To temper
Oil – 1 tbsp
Mustard – 1/2 tsp
Urad dal – 1 tsp
Channa dal – 1 tbsp
Curry leaves – 1 sprig
How to make poori masala method:
Wash and cut potatoes into 4 and pressure cook for 3 whistles with little water. Cool down, peel and keep it roughly mashed. Don't mash completely, just break into pieces roughly. Heat kadai with oil and temper with the items given under 'To temper' table.

Add green chillies, ginger, thinly sliced onion (lengthwise) and fry until transparent. Take care not to burn it or change its colour. Just let it turn transparent. Add carrots and fry for a minute in medium flame.

Add 3 cups water, turmeric, salt and sugar. Bring to boil. Add the mashed potatoes. You can mash one or two pieces completely to make the masala thick as it boils.

Continue to boil for 10 minutes in medium flame or until the masala gets thick in consistency. You can add corn flour dissolved in 2 tblsp of water towards end to make the masala look homogeneously thick.
Notes
While boiling the masala wont be that yellow, but after cools down, it slowly gets more yellow, but add 1/4 tsp as mentioned, otherwise it looks dull yellow.
My chillies were spicy, so added 4, if not, add more, otherwise the masala will be bland.
Instead of corn flour you can use besan/ chickpea flour/ kadalai mavu to thicken the masala.
You can add a tsp of coconut oil for extra flavour.
Other variations you can do:
*Add crushed garlic in place of ginger.
*Temper with cinnamon stick and use ginger garlic paste while frying onion and add ground coconut and cashews towards end to make it thick and rich.
* Add more vegetables like peas and beans along with carrot.
*Grind ginger and green chilli and add to the boiling masala.
You can have this masala with poori, or even with chapathi or rava idli too. Use the left over masala for making masala dosa.