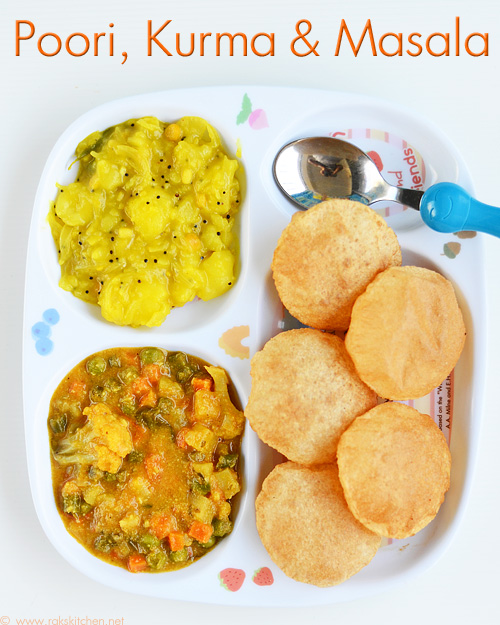 This weekend breakfast is Aj's favorite poori. He usually prefers kurma than the usual potato masala. Now a days he adjusts with potato masala too. But his preference is kurma. I make kutti (small) pooris when I make it for his lunch box, otherwise I make the regular sized pooris if at home. Here in Komalas, I have seen they have a kids menu as poori meals with small pooris, channa masala or mix veg kurma, potato masala and coke. I wanted to post this here too, so made today morning for breakfast.
I made aloo masala very less, and mix veg kurma as usual. Still I know it will be leftover, but I will use it for my dinner and potato masala for making masala dosa for Aj. I am writing this because some people think beyond and ask why you make so much, after this heavy breakfast what you had for lunch, what you will do with the left over, do you eat this much sorts of questions!!! 🤔 I know many of you pour your support by sending me appreciation mails for this series and thank you so much for those, but still one or two comments like above sure sounds discouraging!
Here is how I prepared this menu
Poori mix veg kurma & potato masala breakfast
Recipe Cuisine: Indian | Recipe Category: Breakfast
Prep Time: 12 hrs | Cook time: 45 mins | Serves: 4
Cook potatos for masala. Mean while chop veggies for mix veg kurma.
Chop onions and tomato for kurma, slice onion for masala. keep ready ginger, garlic (or ginger garlic paste) as needed.
Keep other ingredients like chillies, coriander,curry leaves also ready. Grate coconut and gather ingredients to grind for kurma.
First prepare kurma and while you cook (simmer) it, prepare the potato masala.
While both getting ready or is already ready, prepare dough for poori. Keep aside for 10 mins.
Lastly when your family is ready, prepare poori and serve hot and fluffy puris.
So simple yet exciting for kids – mini pooris with two different side dish is ready!
Check out the recipes
You can make potato kurma or cauliflower kurma or tomato kurma or channa masala too instead of mix veg kurma.
Have a happy sunday! 😍