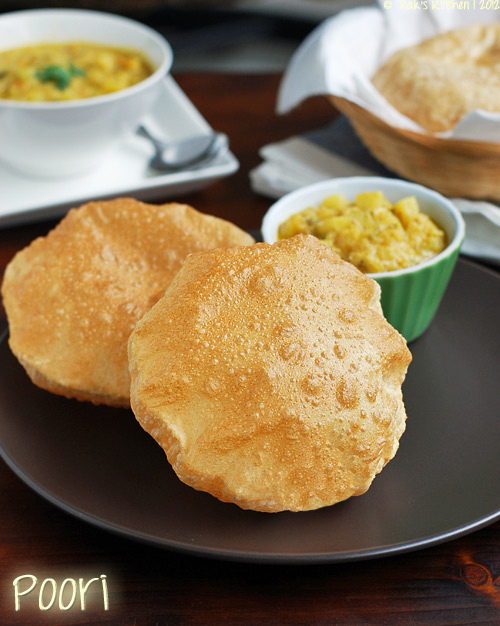 Puri recipe (poori recipe) – the classic, south Indian breakfast, perfect for weekends and special occasions. Learn how to make perfect puffy poori.
I am posting some basic recipes here, like the curd rice post. Now puri/ poori recipe. I am trying to fix some timing in a routine for blogging. In-laws are here and spending some time with them instead of staring at the laptop screen. I know most of us know how to make puri. But I think this post could help a bit beginners who struggle to puff the puri/ poori. I now a days avoid eating puris, but Aj loves it. Instead of the usual puri masala, he loves to eat it with kurma. So I make kurma for puri. Mostly it would be
mixed vegetable kurma
. But sometimes make this potato kurma. Anything with potato goes wrong? 😉 It tastes delicious!
Why poori doesn't puff?
Here are some common questions/ doubts while making poori:
Question : Why my poori gets holes while I fry in oil and doesn't puff or gets flat after few seconds?
Answer : Water content more in dough.
How to troubleshoot? : Try adding more flour, knead. Rest the dough for 5 mins and knead again to make puri.
Question : How to make puri crispier and stay crispy for longer time?
Answer : Adding oil in dough while preparing and using less water is the key. Make stiff dough for crispy poori.
Question : How to make sure I am making stiff dough? It is difficult to make stiff yet smooth dough, making it difficult for rolling.
Answer : Use less water while preparing dough, make sure you are able to form a dough, dont worry about the cracks. Rest the dough for 10 mins inside a zip lock or a cover so that it sweats and it will make it easy to knead and roll. Resting the dough and kneading is the key.
Question : My poori has cracks at the edges, difficult for rolling, doesn't puff up and turns out like biscuit when fried.
Answer : Less water content, not enough resting time. Just wet your hands and knead again, rest for 10 mins inside a ziploc, knead again and try.
Check some side dishes that goes well with puri :
And so sorry to the blogger friends, I could not follow your posts or write comments in your blog! Miss all your posts🙁.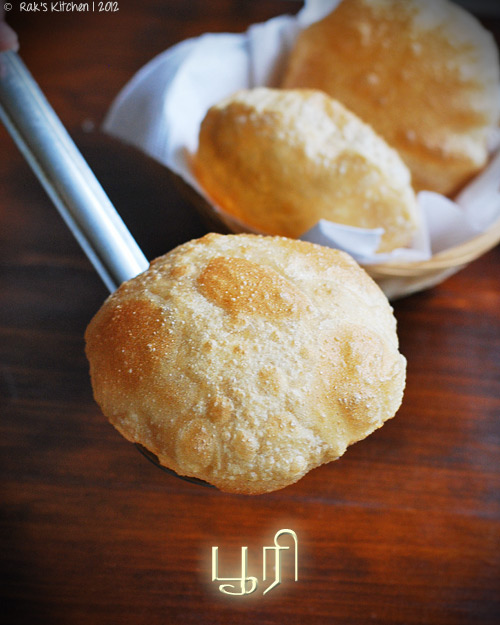 Puri, poori recipe
Recipe Cuisine: Indian | Recipe Category: Breakfast
Prep Time: 15 mins | Cook time: 15 mins | Makes: 8 | Author: Raks anand
Poori recipe in tamil click here
Learn how to prepare a perfect puri, south Indian poori with step by step pictures and detailed instructions.

Ingredients
Wheat flour – 1 cup
Water – 1/4 cup + as needed
Sugar – 1/4 tsp
Ghee or oil – 2 tsp (Optional)
Salt – As needed
Oil to deep fry
How to make south Indian puri method:
Take flour,sugar, oil or ghee (if adding) and salt in a bowl. mix well.

Add 1/4 cup water little by little while you mix the flour to resemble a crumbly mix. Then carefully sprinkle water to gather to a dough.

Keep a side covered for 10 – 15 minutes and then again need to make it smooth without any cracks.

Divide into equal sized balls (6 – 8).Roll out into circles. Not too thick, not too thin.

Heat oil in kadai,until fume just starts to come. Then keep it in medium flame and drop the rolled puri in the oil carefully. Oil should be enough to immerse the puri. Gently press the puri with the laddle when it tries to float on the top. This will make it puff well. Turn over and cook for another 30 sec or until golden spots appear on the puri.
Notes
Adding sugar helps in turning the puri to a nice golden colour. Also enhances the taste.
I have heard from my MIL that adding a tblsp pf rava/ semolina/ sooji gives crispier puri.
Keep oil in kadai enough. It is important in puffing puri.
Keep oil always hot. Then only puri will puff. So manage your oil temperature accordingly high/low/medium
Adding a tsp of ghee while making dough also gives a nice flavour.
Do not use newspaper or magazine to lay the spread poori as the print ink is not good for health. Instead, use a wide plate.
Keeping spread poori for long time and then deep frying will not give puffed poori, so do not make more than 10-12 at a time and fry immediately.
Big fat puris are ready! Serve hot with puri masala or mixed veg kurma or potato kurma as I did. Recipe for potato kurma – Next week 🙂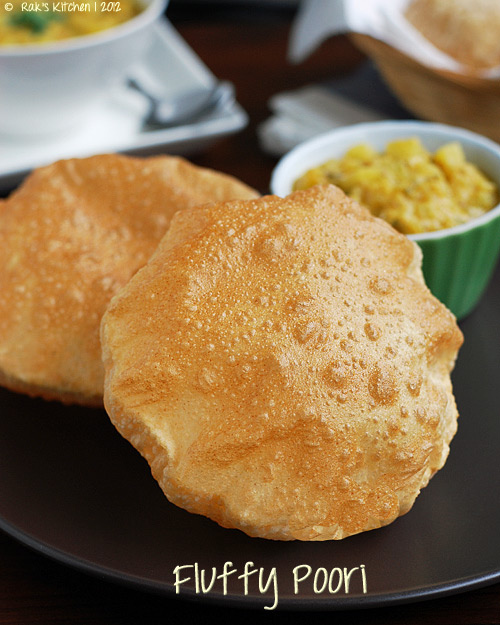 Tags: How to make puri,how to make poori,puri recipe,poori recipe,south Indian puri recipe. How to make puri fluffy,perfect puri,breakfast recipes,Indian breakfast recipes