Poosanikai rasavangi, ash gourd rasavangi is a side dish for lunch made with white pumpkin, fresh ground masala and coconut. The fresh ground masala is specialty in this recipe.
Goes well with poondu kuzhambu. This is also called white pumpkin kootu.
Jump to:
I love the name of this dish poosanikai rasavangi, very tempting for me, but have never tried before.
Asked my mom in law for the recipe, she too was not that sure about it, but my father in law told me this recipe. Goes well with tangy gravies, great accompaniment for rice.
Rasavangi tastes best when had with rice and ghee. The flavour of fresh ground masala reminds of the arachuvitta sambar but with goodness of vegetable in it like a kootu.
You can add moong dal or chana dal in this kootu which I have omitted.
Poosanikai rasavangi recipe
Recipe Cuisine: Indian | Recipe Category: Lunch
Prep Time: 15 mins | Cook time: 20 mins | Serves: 2
Ingredients
Ash gourd - 2-3 cups, Diced
Moong dal - 2 tbsp
Chana dal - 2 tbsp
Turmeric powder - ¼ tsp
Salt - As needed
Curry leaves - 1 sprig
Tamarind - 1 tsp, measure rounded in a tsp, packed.
To roast and powder
Fenugreek seeds - ¼ tsp
Chana dal - 1 tablespoon (You can add urad dal too instead of chana dal)
Dry coriander seeds - 1 tbsp
Red chillies - 4
Asafetida - ¼ tsp
Grated coconut - ¼ cup
To temper
Mustard - ½ tsp
Urad dal - 1 tsp
Curry leaves - 1 sprig
Coconut oil - 2 tsp
Method
Take moong dal and chana dal in a vessel with 1 cup water and in a small bowl, keep tamarind and little water to immerse it in middle of the dal as shown in picture.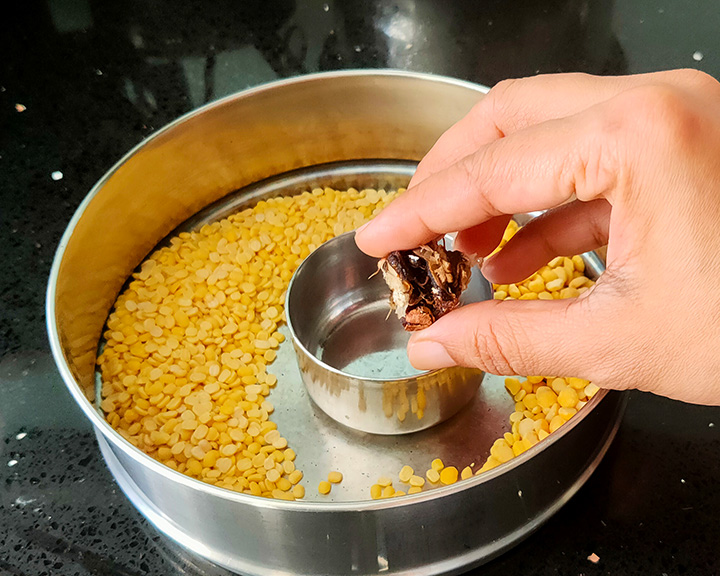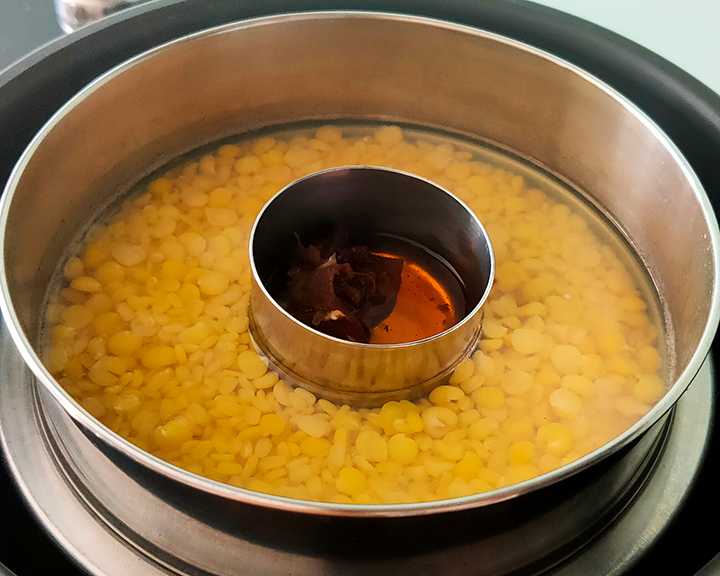 2. Pressure cook for 3-4 whistles in medium flame. Once done, keep aside.
Extract thick tamarind pulp from the tamarind. (with not more than ¼ cup water) Since we pressure cook, I use just couple of tablespoon actually.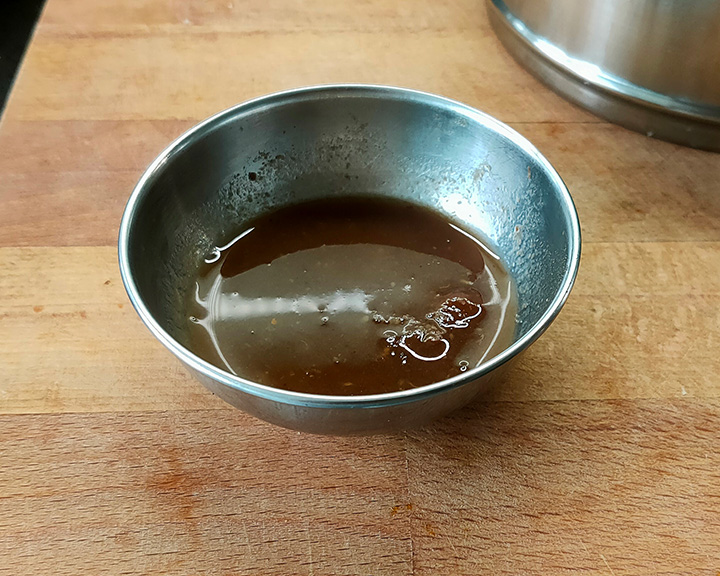 3. Cut the white pumpkin firstly (½ of a white pumpkin) into 4. Slice off the green skin and the seeds + pith. Slice it thickly, then into strips and then dice it into cubes.
After that, cook ash gourd in water just to immerse it with turmeric, a sprig of curry leaves and salt, till soft. Make sure not to over cook.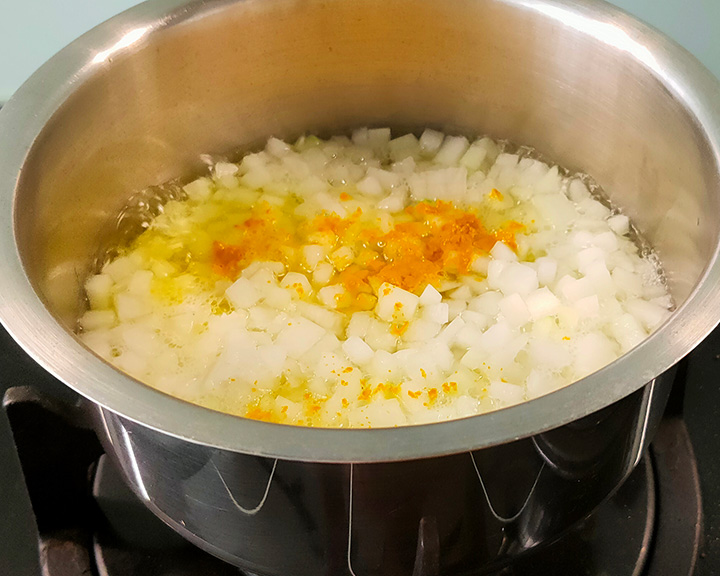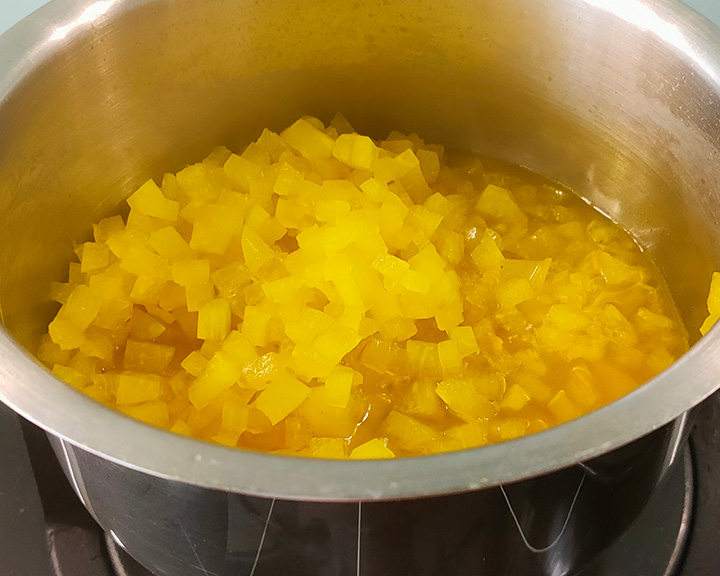 4. Then add the tamarind extract and cooked dal.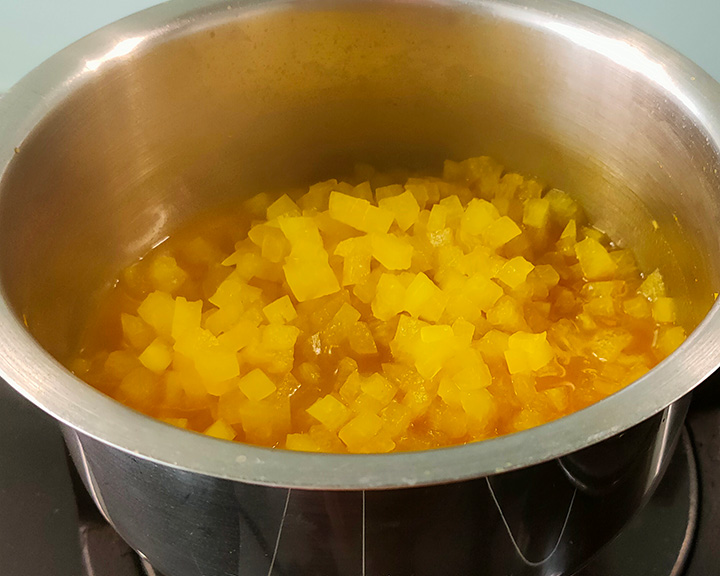 Roast spices
5. Meanwhile, heat oil in kadai, add fenugreek seeds, asafoetida, red chilli, chana dal, coriander seeds in order. Roast evenly until dal turns golden.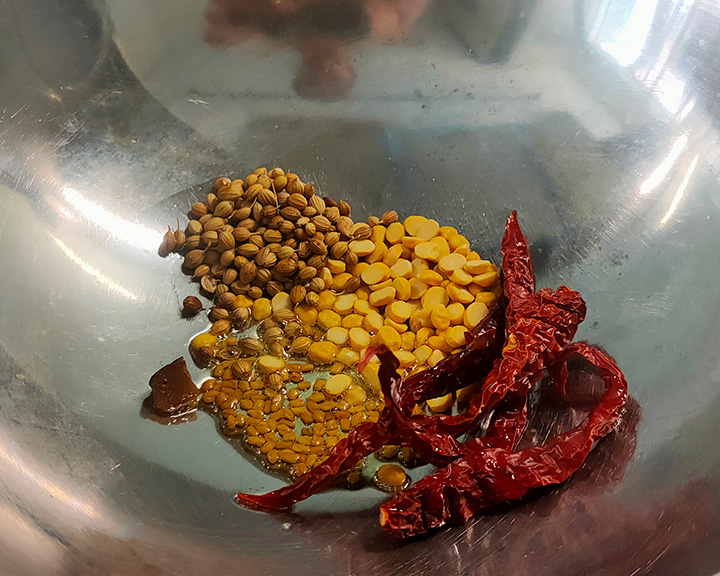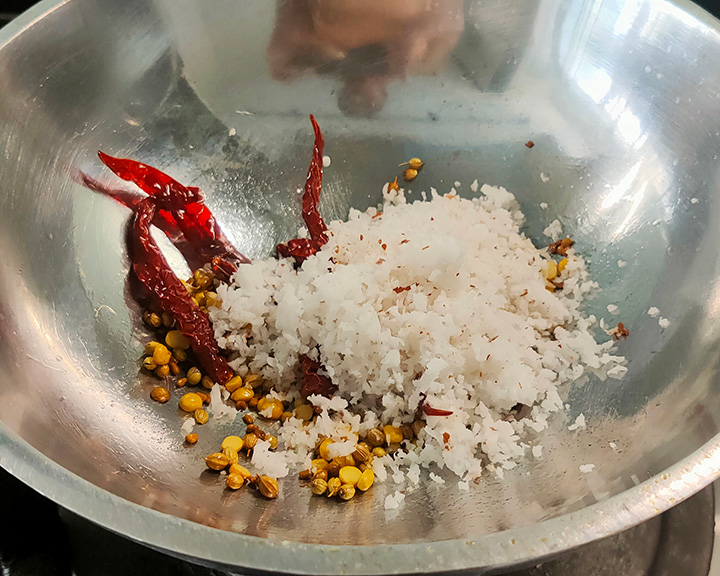 6. After that, add coconut and roast until golden in color. Transfer to a plate.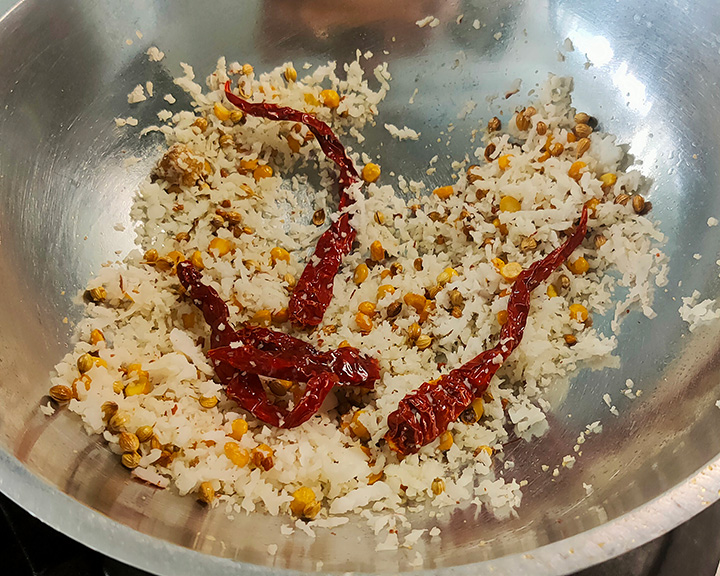 7. Grind together to a coarse powder firstly. Then add water and grind to a paste.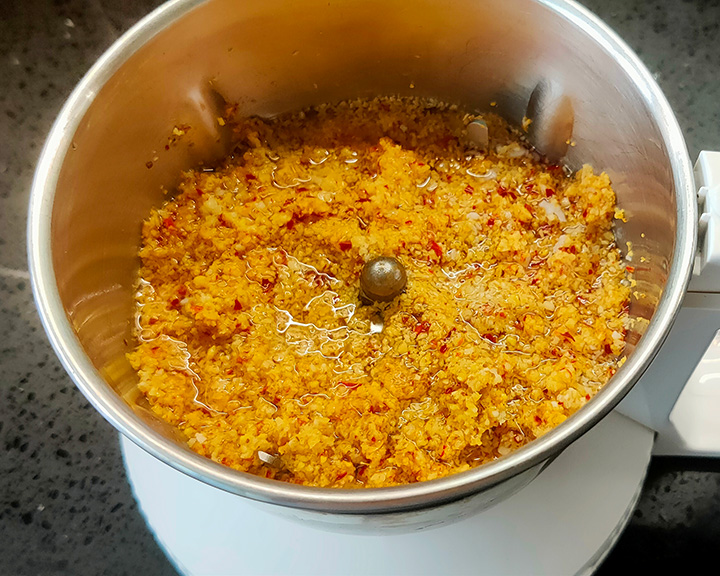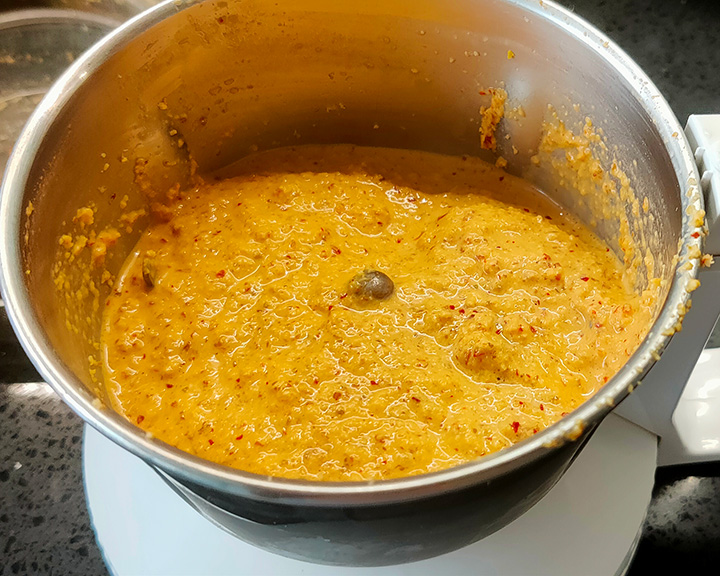 8. Add this ground paste, stir well and give it a boil.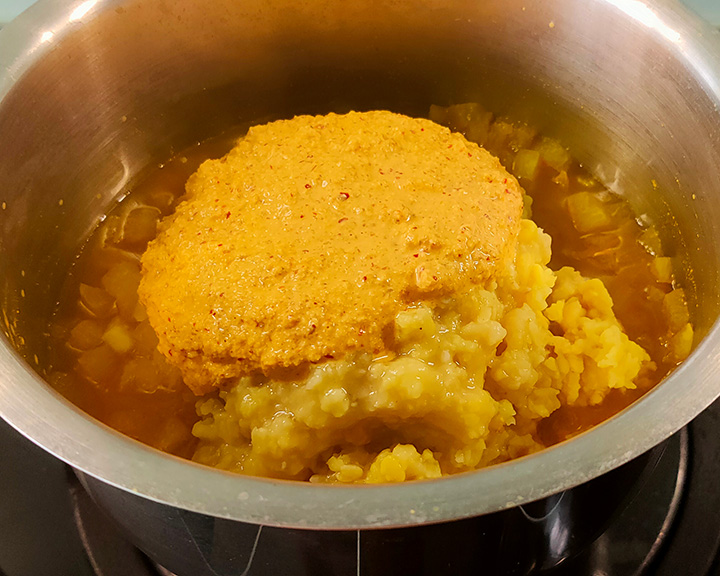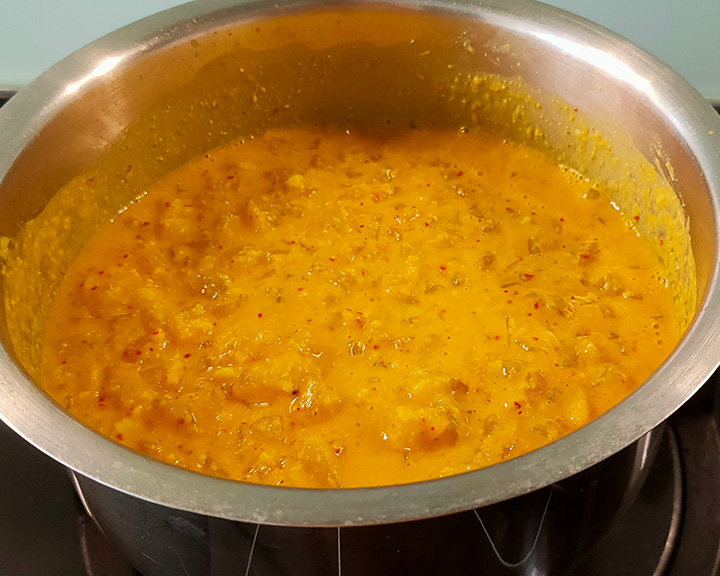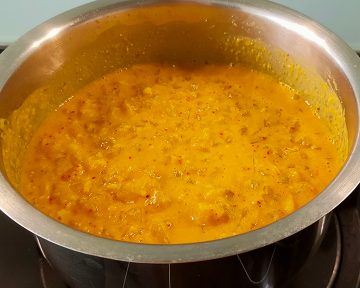 9. Lastly temper, heat oil and splutter mustard. After that add urad dal and curry leaves.
Mix in to the poosanikai rasavangi. Drizzle some coconut oil for extra flavor.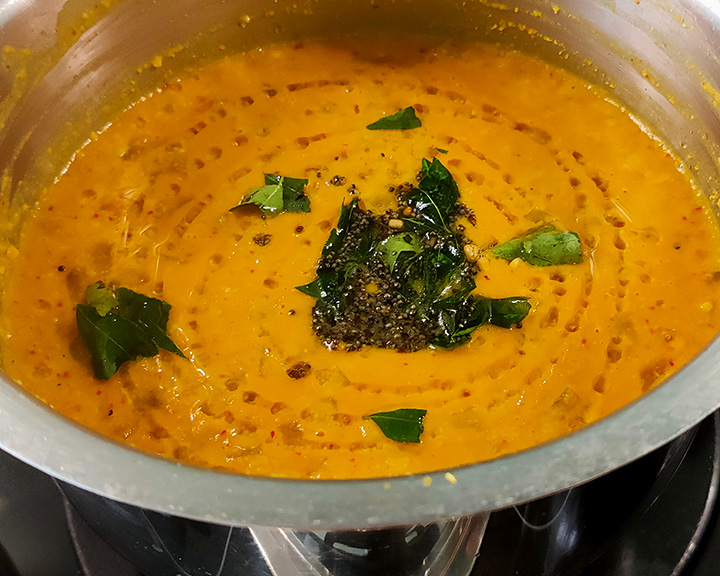 My notes
Add tamarind only after ash gourd gets cooked. Otherwise it will not get cooked.
Mix well and serve as an accompaniment for rice.!