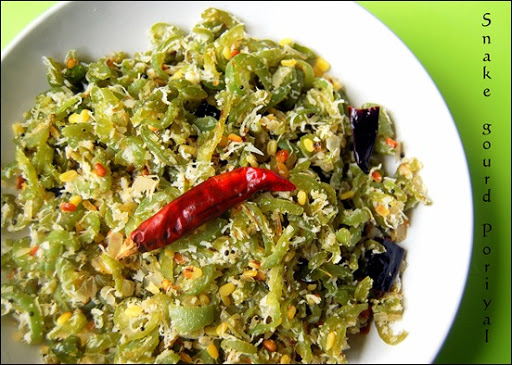 A poriyal that has a simple taste,one of my hubby's favorite. We mix this poriyal with hot rice and sesame oil/ghee and enjoy. Yesterday we had a friend at home for lunch. So I made little more than usual. I made chayote sambar,pepper rasam,
cabbage kootu
and masala vadai along with this.
Snake gourd needs some preparation before cooking,which I always enjoy doing…Some veggies needs more work to be done when compared to the others. But,I always love doing those special preparation part, and enjoy cooking that veggie. Snake gourd is one among the veggies I love to cook. I took the pictures in hurry,especially the final pictures as I was expecting the friend.But still I managed to take step wise pictures to ensure that it should be helpful to the beginners 😊.
Pudalangai poriyal recipe
Recipe Cuisine:
Indian
|
Recipe Category:
Lunch
Prep Time
:
10 mins
|
Cook time: 15 mins
|
Serves
:
4
Ingredients
Snake gourd – 2, medium in length
---
Moong dal/paasi paruppu – 1 tbsp
---
Coconut – 4 tbsp
---
Salt – As needed
---
Onion – 1
---
To Temper
Oil – 2 tsp
---
Mustard – ¾ tsp
---
Urad dal/Ulutham paruppu – 1 tsp
---
Red chillies – 2
---
Curry leaves – 1 sprig
---
Method
Scrap the skin of the snake gourd slightly to remove the snowy skin. You can skip this step,do only if desired. I usually dont do this, one of my friend told, so tried this time.

Cut the snake gourd into tubes and halve the tubes vertically as shown below.Remove the centre soft portion with a cutlery knife and wash the snake gourd.

Stack two,three pieces and slice the snake gourd into thin crescents.Chop the onions finely,keep aside.

Mix well,the cut snake gourd with salt and moong dal in a big plate and keep it in a slanting way to let the excess water drain.Keep aside for 10 – 15 minutes, the mixture will ooze out water. You may want to mix in between once.

Squeeze out the excess water, don't squeeze hardly, just gently to take off the excess water. Keep aside. You can use the squeezed water to sprinkle it in between cooking. Heat kadai with oil and temper with the items given under the "To temper" table.

Add the chopped onions and fry till transparent.Add the snake gourd and fry for a minute and press it lightly and cook covered for 4 minutes.(stir in between)

Once done, mix in the coconut and stir well for a minute and transfer to the serving dish!
Note
Squeezing out the excess water gives a dry poriyal,so make sure you squeeze out the excess water!
Not that you have to squeeze completely, reserve this water and use while cooking the snake gourd to sprinkle in between.
If you cook without squeezing, the snake gourd wont be soft. Also squeezing helps in easy cooking.
Tasty, flavorful Pudalangai poriyal is ready!