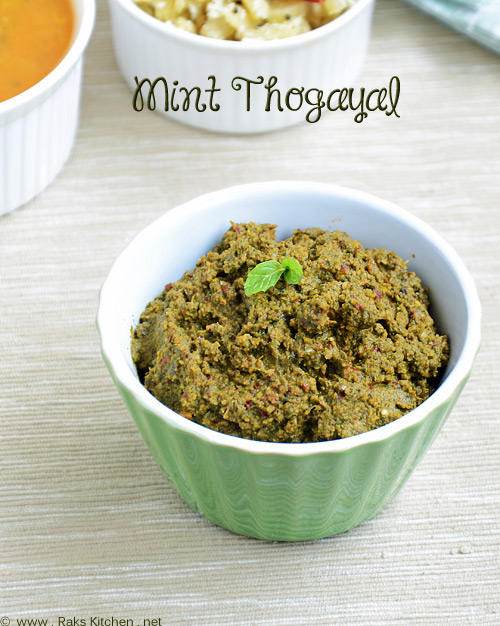 I often make
kothamalli thuvayal
, we both are great fan of that and also easy to make. But I rarely buy pudina as I don't get '
that
' fresh leaves. If I am lucky I use it for making biryani and chutneys mostly. But for past two visits to little India, I am buying a big fresh lovely bunch of pudina and making all possible recipes using it.
Chutney
, thuvayal, rice, biryani… I will soon post the pudina rice recipe. Thuvayal means my mom to me. She makes it very tasty. I can live simply with different thuvayals. Vj too loves thuvayal varieties. I have made it with little of coconut. You can omit that. What I love in thogayals is there is no need to season/ temper! 😁.
Pudina thogayal recipe
Recipe Cuisine:
Indian
|
Recipe Category:
Breakfast
Prep Time
:
15 mins
|
Cook time: 10 mins
|
serves
:
4
Ingredients
Fresh mint leaves - 1 cup, tightly packed
---
Red chilli - 10
---
Urad dal - 2 tbsp
---
Coconut(optional) - 2 tbsp
---
Tamarind - small gooseberry sized
---
Jaggery - 1 tsp
---
Salt - 1 & ½ teaspoon (approx)
Method
Roast red chilli, urad dal until golden and add tamarind, washed mint leaves. Just fry for 30 – 40 seconds until the leaves reduce in volume.

Grind this after cooled down along with coconut, jaggery and salt. Add 2-3 tblsp water while grinding.
Notes
The main thing in thogayal recipes is to balance the red chilli, tamarind and salt.
Adding jaggery enhances the taste.
You can microwave tamarind for 20 seconds to make it soft, after dipping it for a second in water. This makes it blend easily.
Store in a airtight container in fridge and you can use this for 1 week and best for your lunch box when mixed with steamed rice. Use generous sesame oil when you mix with rice. Simple vadams goes well with this.