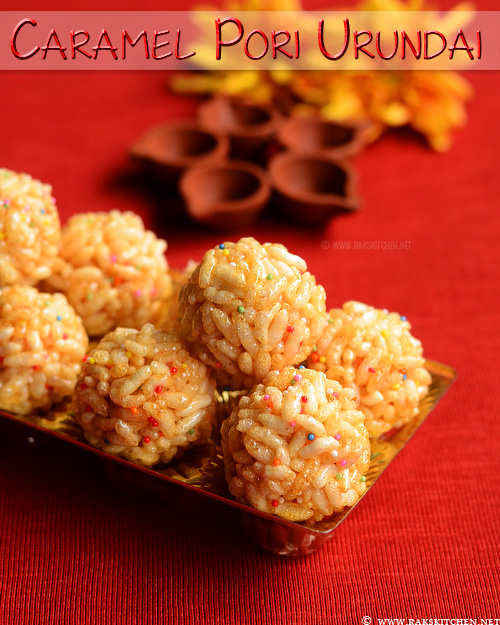 Pori urundai (puffed rice snack) made with sugar by caramelizing it. With just few easily available ingredients, this snack is perfect for kids snack as well as for us.
I thought to try this few years back when I saw puffed rice balls here in Fairprice. I got and tasted to find it was not made with jaggery but sugar, but there was a caramel colour. So I got an idea to make it with sugar. Last year itself wanted to try and post but did not try. This year I got puffed rice during Saraswathi pooja, but since I went on holiday during that time, puffed rice was as such there. I made kara pori with some and me and Aj had as such some. Then my first try before pottukadalai urundai was makign puffed rice balls with sugar. I tried 3 times in total and all the three times ended up in sugar crystalizing regardless the sugar syrup consistency. We finished the sweet puffed rice as snack.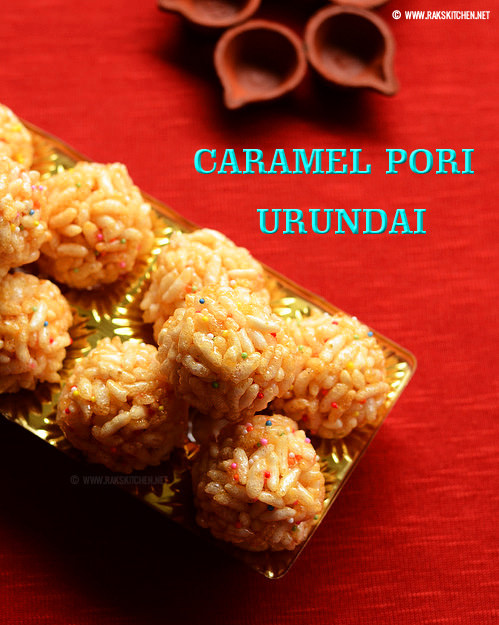 But I never wanted to give up. I was wondering if a simple sugar syrup is made as sugar candy (by candy pulling) why my puffed rice balls with sugar was not possible. I started watching candy pulling videos to get tips to prevent crystallization and understood. So here's how to make puffed rice snack balls, pori urundai with sugar.
Check out my
Karthigai deepam recipes
Puffed rice snack recipe
Recipe Cuisine:
Indian
|
Recipe Category:
Snack
Prep Time
:
15 mins
|
Cook time: 15 mins
|
makes
:
15 balls
Ingredients
Sugar – ½ cup
---
Puffed rice – 2 cups, approx
---
Cardamom – 1
---
Lemon juice – 1 tsp
---
Sugar sprinkles – as needed (optional)
---
Ghee – to grease
---
How to make puffed rice snack step by step method
Take a heavy bottomed vessel. Place sugar in it and add water just to immerse it.

Heat it in medium flame to dissolve the sugar completely. Add lemon juice and mix well.Once sugar dissolves, start heating in medium flame and wipe the sides to remove any sugar grain/ sugar crystals. This is to prevent sugar crystallization. I used my silicon brush to wipe the sides.

Never stir the syrup after sugar dissolves. Just continue boiling in medium flame. Wipe the sides if you see any sugar syrup in the side gets browned. At one point, the sugar syrup starts caramelizing, the sugar syrup starts changing colour in the sides.

Take the pan off the flame. Just heat the puffed rice slightly. Add it to the syrup. Do not add more than mentioned.

Mix gently. Add cardamom powder and sugar sprinkles (if adding). Let it be as such for a minute(not more than that).

Grease your hands with ghee generously.Carefully take some puffed rice mixture (will be hot, so use your finger tips to take some mixture from the top, do not dig deep). Roll tightly into balls.

Towards the end, the mixture will get stuck to the pan. Just heat it up slightly to loosen and make balls to finish.

Every time grease your hands with ghee and roll tightly.
Tips
Please be careful while handling the mixture as it will be hot.
Switch off the flame when you see the sides starts turning golden. Otherwise it will get deeper in colour which could make it bitter.
I wanted to make the syrup even little more lighter but it turned golden more quicker than I thought as I was concentrating in the video. Make sure the flame is in medium to have control in your syrup stage.
Cool down completely before storing in airtight container.
Sugar sprinkles is purely added for eye treat, so its optional.
You can add vanilla extract in place of cardamom.
Though we make nel pori or aval pori for karthigai deepam, you can make this fancy snack for the kids.