South Indian food with simple recipes for lunch menu number 45 for my Lunch menu.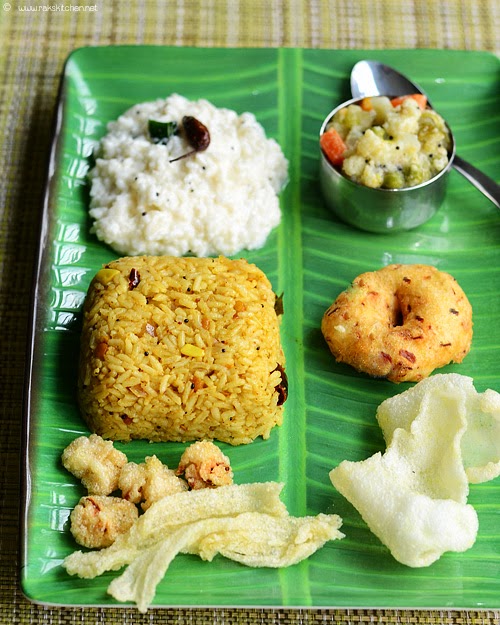 After 2 weeks break because of festive mood, I am here with another simple lunch menu. I made this few days back with an almost going to empty vegetable tray in my fridge.
I, this time wanted to make the lunch menu in weekdays and schedule it for weekend instead of making last minute cooking and post after lunch. Actually, I added a cabbage vada to make this menu fancy.
I took very little urad dal batter that I ground for idli dosa batter and refrigerated. It came only 4 vadas, perfect enough for the little organic cabbage left over in my fridge.
And this puli sadam is a recipe contributed by my friend Gayathri, my favorite since she brought it to our hostel in a big thooku. Her mom is so sweet enough to make and send it for every one. We dig-ed in and had for 2 days. Yes, it keeps good for the next day too!
Recipes
Puli sadam with garlic, not the puliyodharai version. This is super flavorful and tasty that can keep good for couple of days in room temperature itself. Perfect for travel.
Curd rice is an south Indian food staple in Tamil home as a part of lunch. Check out the recipe below.
Curd rice recipe - Learn how to make perfect creamy south Indian curd rice with step by step pictures and tips for delicious results!
20
mins
3. Mixed vegetable kootu recipe
Mixed vegetable kootu is a simpler version of aviyal, best way to use all the veggies to empty the fridge.
Best no onion vadai with cabbage in place of onion that you will not even know it has no onion.
Homemade mor milagai is hygenic and tasty that can go well with curd rice. Easy and perfect side dish.
Elai vadam can be made at home even when there is no sun shine. Check out this easy recipe.
My koozh vadam recipe will make a small batch that you can sun dry in your balcony and use it for a while.
The onion vadam (killu vadam) from my MIL. You may also be interested in puliyogare recipe, other kootu recipes, masala vadai recipe.
South Indian food recipes - Lunch menu idea 45
Recipe Cuisine: Indian | Recipe Category: Lunch
Prep Time: 30 mins | Cook time: 1 Hr mins | Serves: 4
On wake up soak for vada. Grind after 3 hours and keep refrigerated and we can do this lastly before serving to serve it hot.
After beakfast, while you are sitting, you can peel small onion and garlic for this puli sadam. Soak tamarind.
Then when you enter kitchen for cooking lunch, keep rice, extract tamarind juice.
Mean while, chop veggies, cabbage for vada. Cook the veggies for kootu. Chop the onion, garlic as needed.
Grate coconut and grind for kootu. Finish cooking kootu.
Keep all the other ingredients ready, like curry leaves, red chilli etc for tempering.
First temper for kootu, mix and keep aside. Next prepare the puli sadam gravy.
Mix the gravy with cooked/ cooled rice. Keep aside.
Lastly when your family is ready for lunch fry vadams (if desired), mor milagai and make vadas lastly.
I took ¾th of the rice for tamarind rice and remaining for curd rice and kept the curd rice simple with just tempering.  
Lunch with puli sadam, mixed veg kootu, curd rice, cabbage vada and some homemade condiments to fill the plate.
Have a great weekend