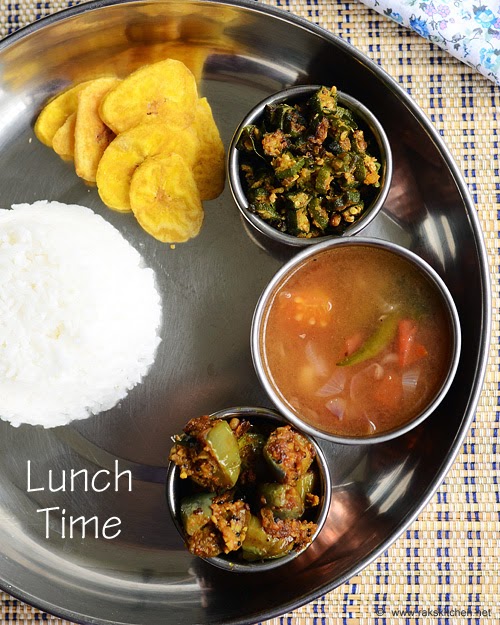 This weekend
lunch menu
is simple comfort food with this puli saru, which is less noticed recipe here, its amazingly delicious and flavorful. And made ladies finger poriyal for Aj & Vj and the kathirikkai poriyal one and only for me. My mom makes this puli saru best 😍, I still don't have that consistency in taste while making this. I usually do not like
rasam
with
curd rice
combination which few people eat. But except this one. I love this puli saru with mor sadam. Some also call this puli saru as vengaya rasam. My mami also makes this puli saru, but totally different. Bit I like my mom's version the best when it comes to puli saru. My MIL makes it with garlic and all those things and it will be more like a diluted vatha kuzhambu/
poondu kuzhambu
.
Puli charu, Brinjal, Vendakkai poriyal
-Lunch menu 46 Recipe Cuisine: Indian | Recipe Category: Lunch
Prep Time: 30 mins | Cook time: 45 mins | Serves: 3
Pressure cook rice, soak tamarind. Peel and chop onion, tomato for puli saaru.
Chop ladies finger poriyal. Cut and keep the brinjal immersed in water. Grate coconut for both poriyals.
Keep all the other ingredients like small onion to grind for poriyal, green chillies, curry leaves for puli saru, poriyals. Extract tamarind juice.
Prepare puli saru first, ladies finger poriyal next and lastly brinjal poriyal.
Both frying ladies finger and binjal poriyal takes some time. So you can use 2 kadais and do side by side and finish sooner.

Check out the links for the recipes :
I served this easy to cook lunch along with store bought nendran chips, my most favorite in this whole world😎, but linking to the plantain chips.
You can check other rasam recipes, Ladies finger curry recipe, brinjal curry recipe too.
Have a happy weekend!