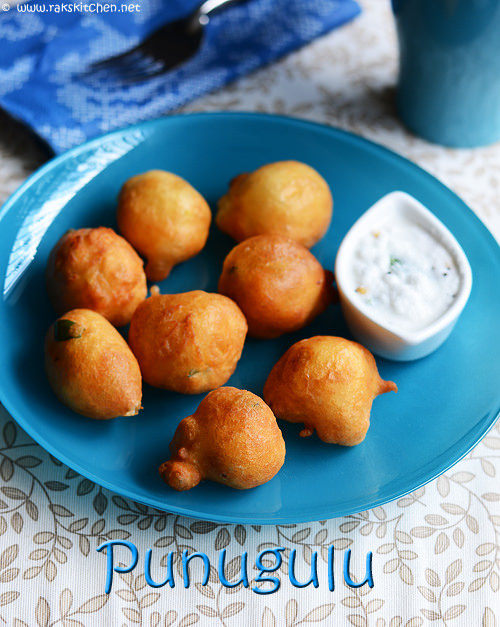 Punugulu is totally new to me, I have never tasted it before or even heard until Vj told about it. I am so confused with punugulu and goli bajje, don't know the difference, please someone who knows, enlighten me. My friend Sangeeta passed me this recipe that she took from her friend. The idea of using self raising flour was totally unique and have never heard that before. So I wanted to try it out immediately. Its very very easy to prepare. A fata-fat recipe, that you can whip up when you have surprise guests. You can make a lot of variations to this recipe which I have mentioned in the tips section. I know there are lots of variants when it comes to this recipe. Ppl make it with
dosa batter
often I guess. I haven't tried those versions but this one is really a quick and easy snack, that turns out delicious too.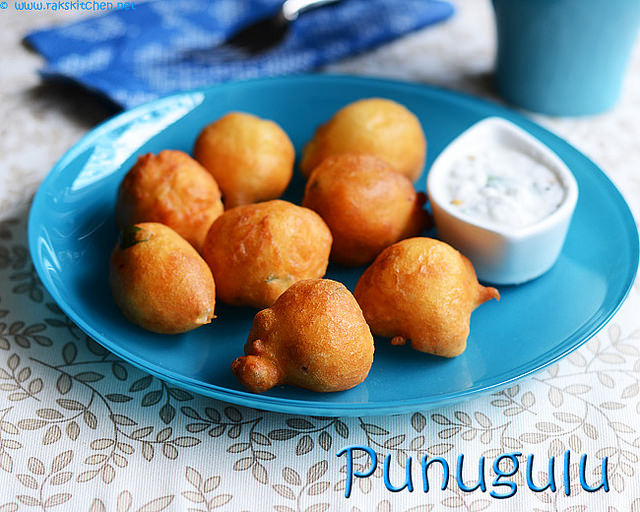 Punugulu recipe
Recipe Cuisine:
Indian
|
Recipe Category:
Snack
Prep Time
:
5 mins
|
Cook time: 15 mins
|
Serves
:
3
Ingredients
Self raising flour* - ½ cup
---
Rice flour - 2 tblsp
---
Green chilli, chopped - 1
---
Ginger, finely chopped - 2 tsp
---
Curd / Plain yogurt - 2 tblsp
---
Water - As needed
---
Salt - As needed
---
Curry leaves - few
---
*If you don't have self raising flour, mix and sieve ½ cup maida (all purpose flour) with ½ teaspoon baking powder.
Method
In a mixing bowl, mix all the ingredients to make a batter. The batter should be thick not like a paste but you should be able to take the batter in your hands and transfer to oil. Just similar to vada batter.
Heat oil in kadai, once hot, use your hand or a small spoon to drop goose berry sized batter in oil. It will raise and puff up.
Turn and cook both sides until golden in colour. Drain in paper towel to get rid of excess oil.
Notes
Some times, as it gets cooked and raises, it wont turn other side when you try to turn. In that case try to keep it immersed in the oil with the help of ladle to ensure even cooking.
You can add onion to this recipe.
I used my hands to pour the batter in oil, you can use a small spoon too.
Make sure the batter is not too runny otherwise the shape will not be round.
Crispy outside and soft inside snack, perfect as tea, coffee time snack. We had with coconut chutney.