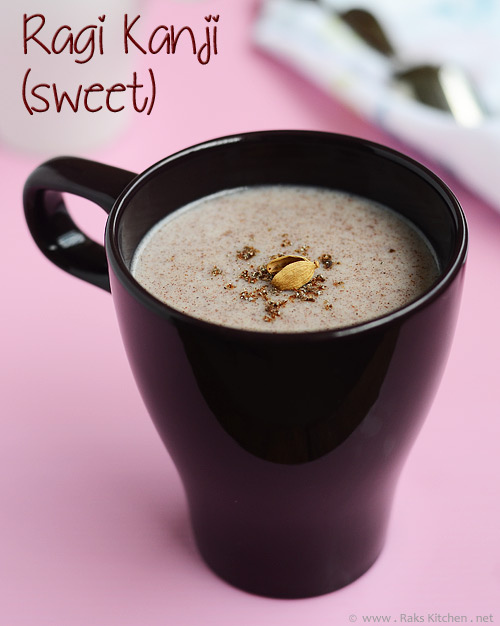 As a kid, I was grown up drinking Ragi Kanji right from the age of 1. I used to drink it everyday instead of milk and used to like it my mom says. But as I grew up, when ever my mom prepares ragi dishes for my paati who is a sugar patient, I neither liked it nor consumed ragi. My mom used to scold me a lot saying this. Then now, again I am liking ragi, be it ragi adai or ragi instant dosa, I make it for breakfast and love to eat it. So last week, after a long time, I thought of trying kanji as I had a bad tooth ache and extracted it, I was advised to take liquid diet or soft diet for 3 days. So I called my mom and asked how to make it and made, enjoyed it. I like the salted version a lot. Sweet version is not my cup of kanji😏. But salted, wow, I totally loved it. That too after a day of starving, it was like armutham for me🤔. Its healthy too, so you can include this in diet every now and then. I think sweet version will be liked by kids, so do try for your kids. It smells so good. Even this is great diet for diabetic people. So you can try this for breakfast or evening time drink for the elders at home.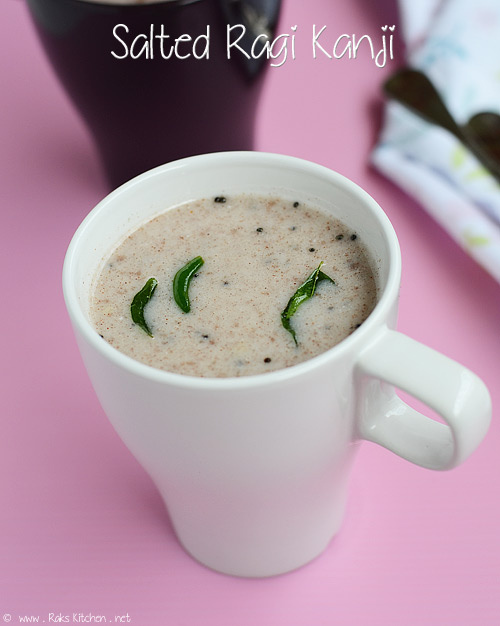 Ragi Kanji Sweet & Salted recipe
Recipe Cuisine:
Indian
|
Recipe Category:
Breakfast
Prep Time
:
5 mins
|
Cook time: 10 mins
|
Serves
:
2
Ingredients
Ragi flour (finger millet flour) – ¼ cup
---
Sugar – as needed
---
Milk – ½ cup
---
Butter milk – 1 cup
---
Salt – as needed
---
Elachi – 1, powdered
---
To temper
Oil – 1 teaspoon
---
Mustard – ½ teaspoon
---
Asafoetida – 2 pinch
---
Curry leaves – few
---
Green chilli – 1
---
Method
Place the ragi flour and using a whisk, mix water(1 & ½ cups) well. Start heating with continuous stirring.
once it starts getting thick, lower the flame completely and keep mixing and cook the flour. say for 4 minutes. The ragi flour should get cooked shiny as shown below. Mine is glass vessel so cooking time may vary accordingly. Reserving half the cooked ragi, mix milk, sugar and elachi powder to half of the ragi. You can adjust the consistency of the kanji by adding milk or water more and just heat it up.
Cool the rest of ragi , add salt as needed and add buttermilk generously and temper with the items given under to temper table. Mix well.
Notes
My mom used to roast the ragi flour until aromatic and then proceed making sweet kanji. I think for infants its safe to roast the ragi to ensure proper cooking.
Adjust the liquid -milk or buttermilk as per your need for the consistency of the kanji.
You can replace sugar with jaggery too.
You can prepare fresh kanji by soaking ragi (finger millet)(whole grain) in water over night and drain, then hang it in muslin cloth to sprout, grind it in mixie with water to a paste, filter using the muslin cloth with water and make kanji.
So which one would you pick? Sweet or salted kanji? Perfect for morning breakfast!