Rajma chawal is a comforting dish you can prepare on a jiffy. A vegetable sabji will make it complete meal.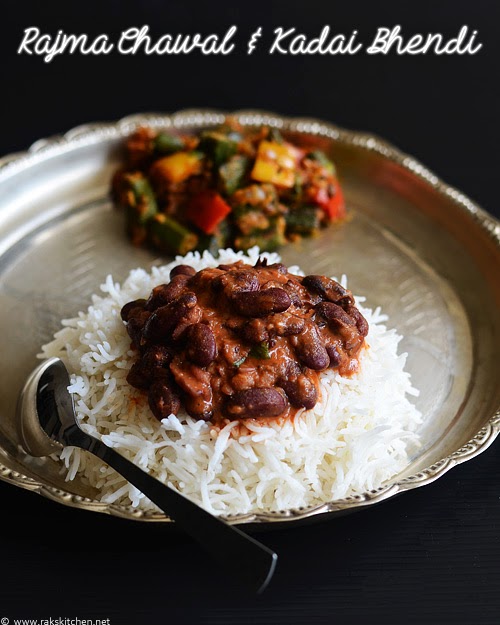 Rajma masala is a dish prepared with red kidney beans and lots of spices to make it super delicious.
Rajma with rice makes it really a good balanced meal with vegetables.
Jump to:
Today's lunch menu is more a lunch combination idea. Aj and me just love to have basmati rice for lunch with any dal or some north Indian gravy.
So I wanted to have a combo with this kadai bhindi as its been a long time I made this.
Also I had this colourful capsicums little bit left over from something, so wanted to make use of it too.
How much ever I had a wrong impression about rajma masala, now I am totally love it it a lot.
When I made this lunch, the we really enjoyed it a lot. After I finished eating and clicking, I realized I had some dough for making phulkas
I could have included that in this menu. So feel free to include it when you plan to make this lunch menu.
Here's how I made this simple menu.
Rajma Chawal
Recipe Cuisine: Indian | Recipe Category: Lunch
Prep Time: 12 hr soaking time + 30 mins | Cook time: 1 Hr Serves: 3
Soak ¾ cup rajma overnight. Next day, drain the water and changed the water, pressure cook the rajma. Soak basmati rice too before you start cooking.
When rajma getting cooked, cutting works. First clean and cut ladies finger and fry it side by side in low flame to eliminate the slimy thing. And proceed the cutting works on the other hand.
I used some leftover tomato puree in the fridge, so made use for the rajma masala. Otherwise you have to chop tomatoes for rajma and kadai paneer.
Chop onion for rajma and kadai Bhindi, cut capsicum and keep all other ingredients like green chilli, coriander, (ginger garlic paste if not there), cashew nut paste etc.
Once rajma is done, first fry and transfer for rajma masala and simmer it in a stove and let it boil. You can also give 2 whistles in a small pressure cooker too.
Next finish the kadai bhindi and I kept rice in electric rice cooker. That's it, work done. If you want you can make phulka and serve hot when serving. Make papad and keep a pickle to make it look fancy.
Recipes
Check out the recipes
Check out how to make phulka.
Have a great weekend! 🙂