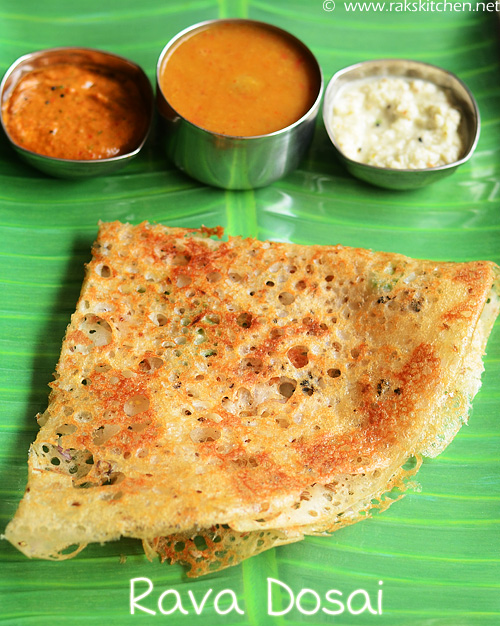 Rava dosa made by soaking rava (Semolina),
rice flour
and maida. I have posted instant version and always make it that way because I make rava dosa for me alone. And don't spend much time for it. But for long time wanted to try this soaking method. Even my friend have told it turns out tasty, where her MIL soaks for over night. When my Co-sis told her neighbour aunty makes this version, it sound interesting where it involved giving the batter a grind. So I tried and turned out really tasty.
Check out the full video on How to make rava dosa
Rava dosa recipe
Recipe Cuisine:
Indian
|
Recipe Category:
Breakfast
Prep Time
:
3 Hr batter resting time
|
Cook time: 30 mins
|
Makes
:
10
Ingredients
Semolina / Rava – ½ cup
---
Rice flour – ½ cup
---
All purpose flour / Maida – ½ cup
---
Black pepper – 2 tsp
---
Cumin seeds – 2 tsp
---
Onion – 2
---
Green chilli – 2
---
Ginger, finely chopped – 1 tsp
---
Asafoetida – A generous pinch
---
Salt – As needed
---
Curry leaves – A sprig
---
Oil/ ghee – As needed
---
Method:
In a mixing bowl, place rava, rice flour, maida and mix well with water ( 2 cups approx). Keep aside for 3 hours covered.

After three hours, blend the batter in a mixer. (I used my hand blender)

Add roughly crushed black pepper, cumin seeds, ginger, finely chopped green chilli, salt, asafoetida and mix well. You can add finely chopped onion to the batter and mix.

Adjust the water quantity, approximately 2 more cups.

Heat a dosa tawa and drizzle with oil. Hold the pan in you hands, slightly in slanting way. Pour a ladle full of batter in an arch. Then tilt to make it spread evenly everywhere. Fill any large gaps. Drizzle little more oil or ghee over.

Cook in medium flame until golden crisp. No need to flip.
Notes
You can reduce maida as ¼ cup in this recipe.
You can add a tbsp of rava while making the dosa for rava to be seen.
Blending is for getting a homogenous batter. You can skip too.
Using ghee gives maximum flavour.
You can sprinkle onion and pour batter over it too instead of adding in the batter itself.
You can make without onion too.
Make sure to cook the rava dosa in Medium fame, so that it cooks slowly and turns crispy.
Serve hot with sambar and coconut chutney the best accompaniment.