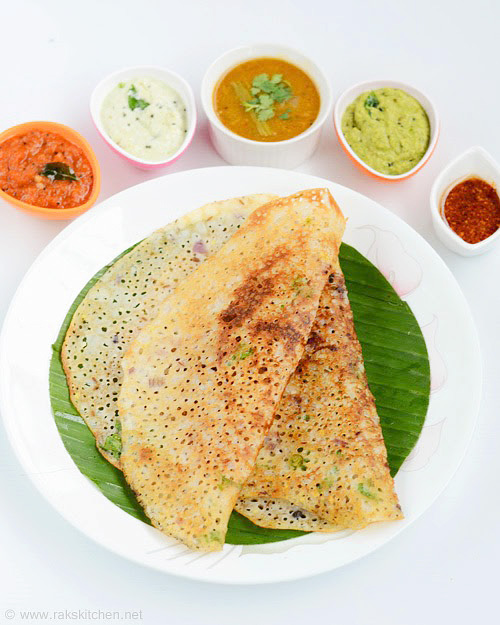 This week, its rather a breakfast idea than a menu, but sure its special because of the side dishes. Vj doesn't eat dosa at home except for maida dosa, but he eats plain dosa at the restaurant. When I ask why, he will say I get 4 different side dish here. So its all about the side dishes? Ok, well, I too can make it once in a while. So for a weekend we can make it special with all these side dishes right? I can give you suggestions how to make use of it the best too. I made sambar in such a way that I can use it for lunch too. So the spiciness and tanginess will be in between, not too tangy as lunch sambar and not too mild as the tiffin sambar. And chutneys, I have explained how in the steps. Go through the post for the tips. Here is how I prepared this breakfast.
Check out the recipes
Check out other dosa recipes –

masala dosa,

cauliflower masala dosa

,

ragi dosa

,

oats dosa

,

tomato dosa

,

wheat dosa

.
South Indian breakfast Idea
Recipe Cuisine: Indian | Recipe Category: Breakfast
Prep Time:30 mins | Cook time: 45mins Serves: 3
Pressure cook dal for sambar, mean while which grate coconut, chop onion, tomato for sambar and red chuney. Soak tamarind for sambar.
Chop onion,ginger for rava dosa, gather coriander leaves for chutney.
Gather all other ingredients like curry leaves, coriander leaves, green chilli and all for the chutney, dosa and sambar.
On to the stove work, roast for sambar powder, temper for chutneys – same for all three chutneys, so you can temper so that you can use it for all 3.
Temper and fry for sambar, transfer for boiling and simmer it in another stove with veggies. Extract tamarind juice and add it to it. Sautee for green chutney and keep aside.
Now grind first for sambar powder, keep aside. Grind red chutney and simmer it in the kadai.
Grind all the coconut as we do for coconut chutney. Take half for cococnut chutney and then add ingredients for green chutney and grind for it.
Mix the tempered items to the chutneys ( you can temper lastly after grinding too).
In between keep an eye on sambar and do the needed, prepare sambar.
When everything ready, save the chutneys for dinner and keep remaining for breakfast. Make dosa once your family ready to eat.
Serve hot your family, rava dosa with 5 different side dishes – sambar, coconut chutney, coriander chutney, red chutney and idli podi.