I had very little last portion of idli dosa batter left and was thinking what to make for breakfast. Aj was asking for masala dosa and being Sunday I was worried about what to make for breakfast and lunch. It became easy when Aj demanded me for something, that at least I know what to do. Aj always wants sambar when he eats dosa. So I thought of making sambar that will go well with both breakfast as well as lunch and thought of keeping the same for lunch as well. So I made it not too mild not too tangy and spicy, in mid way between both so that I can use it up for both. I made drumstick and brinjal sambar. I know Vj would prefer chutney over sambar and only yesterday I ground this chutney except that I used coriander instead of mint. So decided to make coconut chutney to keep it simple. I had coconut that may dry if I keep it for more time than this, so used it up. For making it as a menu and special for a Sunday breakfast, I thought of making rava idli, my favorite and clicked for this post.
Check out the links.
Check out the other chutney recipes too.
Here's how I prepared this breakfast.
Masla Dosa, Rava idli, chutney, sambar – breakfast menu 13
Recipe Cuisine: Indian | Recipe Category: Breakfast
Prep Time: 12 hr | Cook time:1 hr | Serves: 3
Pressure cooked dal for sambar and potato for masala in a cooker with two separate containers.
Mean while put drumstick for sambar for boiling. Extract tamarind juice.
Then to cutting work. Onion for sambar, potato masala. Tomato for sambar. Ingredients like chilli, carrot, green chilli curry leaves, coriander leaves for rava idli as well as what ever needed for sambar and chutney.
I had coconut ready scrapped so Just ground the chutney and kept aside.
Now on to the stove work. First tempered for coconut chutney, then sambar – by then the cooker was ready to open.
Prepared sambar, then tempered for rava idli. Lastly masala for masal dosa.
Made rava idli and lastly made dosa when the family ready for breakfast. I made rava idlies with ½ cup rava and 2 masala dosa each(masala with 1 large potato) . Perfect for a family of 3.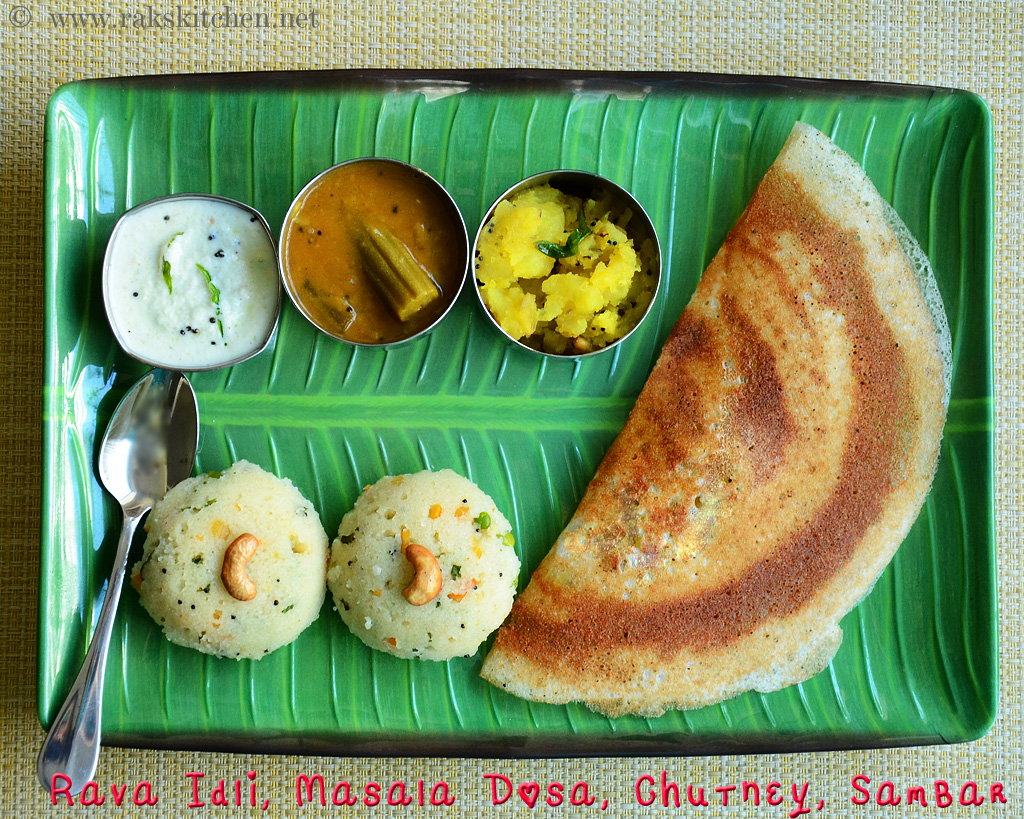 Have a happy Sunday! 😍