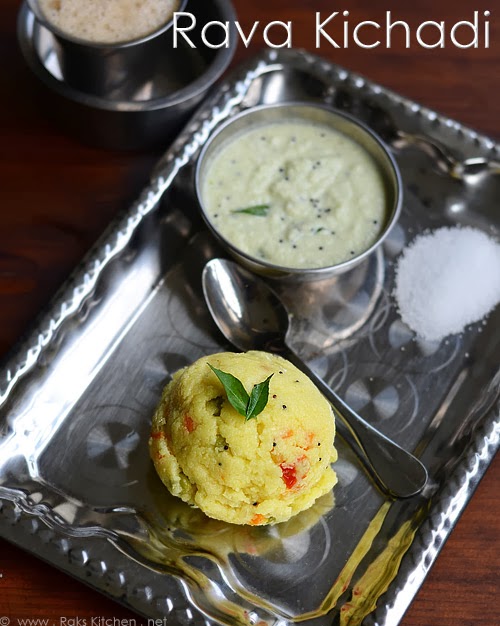 Rava kichadi is one of my top most favourites. I can live with it. I always love all the recipes with rava/ sooji/ semolina. Upma, dosa, kichadi, pongal…everything 😊. Though Aj and Vj are not big fans, they can eat once in a while. I too make rarely because its greasy and I prefer wheat rava upma for health reasons. I make this along with other tiffin items if friends/ relatives visit. The soft texture and the ghee smell in the kichadi tastes and smells out of this world. Also the yellow colour and vegetables we add makes it colourful.
I have updated with video. In the video, I have used 1 & 1/2 cups of vegetables – tomato, carrot, beans, green peas, potato, capsicum. I have added coriander leaves for extra flavour. Also used 5 cups water instead of 4 cups. 4 cups water will give firmer result while with 5 cups water, you will get more loose, softer results.
While adding 5 cups water, it needs more ghee + oil than when we use 4 cups water. If you reduce the ghee or oil, your kichadi will be sticky.
If you do not want to use this much ghee or oil, please skip making this, otherwise you cannot do justice to the recipe. Best when had hot/ warm.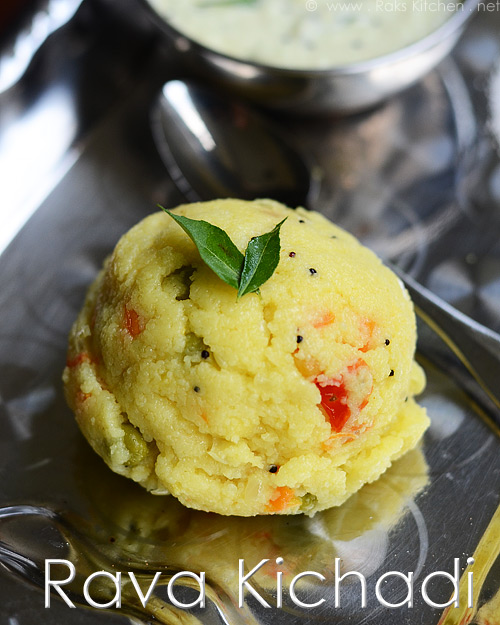 Rava kichadi recipe
Recipe Cuisine:
Indian
|
Recipe Category:
Breakfast
Prep Time
:
10 mins
|
Cook time: 10 mins
|
Serves
:
4
|
Author
:
Raks anand
Rava kichadi recipe (semolina,sooji kichadi), learn how to make South Indian breakfast recipes, Step by step pictures to bring the soft texture of kichadi at home
Ingredients
Rava/ sooji/ semolina – 1 cup
---
Onion – 1
---
Tomato – 1
---
Carrot – 1
---
Green peas fresh/frozen – 1/4 cup
---
Green chillies – 5
---
Ginger, chopped finely – 2 tsp
---
Turmeric – 1/4 tsp
---
Salt – As needed
---
Water – 4 cups
---
Ghee – 1 tbsp
To Temper
Oil – 2 tbsp
---
Mustard – 1 tsp
---
Chana dal – 1 tbsp
---
Urad dal – 1 tbsp
---
Curry leaves – a sprig
How to make rava kichadi:
Soak chana dal and urad dal for an hour(optional). Slice onion lengthwise, chop tomatoes,carrot and slit green chillies. In a big kadai/ pressure pan (I used my mini cooker) heat oil and temper with the items given under 'To temper' table. Fry for a minute and then add onion, green chillies, ginger and fry until onion turns transparent. Side by side, boil 4 cups of water.

Roast rava well in a tsp of oil without changing colour.I used roasted rava,so skipped this step. Add the vegetables and fry well for 2 minutes in medium flame. Add ghee while frying. Add rava and mix well. Add turmeric and salt.

Mix well and add the boiling water carefully to this, with flame lowered. Check for salt.

Mix well, wait until the water gets absorbed by the sooji. Once it gets thick, cook covered in low flame for 8-10 minutes. Give it a mix.
Tips
You can add your choice of vegetables like beans, potato,capsicum as I have used in the video.

For me, the finely chopped ginger is a must in my kichadi as it makes it smell great and also helps in digesting the oil and ghee in the kichadi. If you finely chop the ginger, it will not be coming in mouth as it gets soft while cooking.
Ghee also adds a great flavour, so don't forget to add.
If you reduce oil and ghee in the recipe, the kichadi may not have the same texture as in the picture.
I did not add tomato that day when I clicked. But I usually add. Updated video has tomato and coriander leaves.
You can boil water by adding it after you fry the vegetables and bring to boil in the same vessel and then add roasted rava to it too.
Boiling water side by side reduces cooking time, so I do that.
Tags: rava kichadi, how to make sooji kichadi
Serve hot with chutney and sambar. I love it with both. Bliss! Nothing to explain!