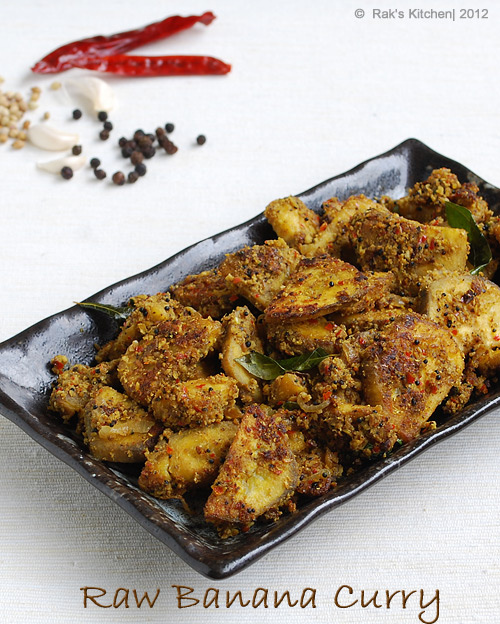 Raw banana curry, south Indian style vazhakkai dry curry with freshly ground special masala – its really spicy and flavorful! Most of the time I buy raw banana/ vazhakkai, I make this raw banana dry curry, other than the simple
vazhakkai poriyal
.
Vj loves it this way. Aj also eats silently, so I stick to this recipe. The curry is so flavourful, that I bet you would be wanting to eat it soon while you cook. The freshly ground masala is such a flavourful masala! It has the fine selected spices that even nullifies the gastric problem we usually get when we cook vazhakkai.I always wonder and appreciate how they incorporate the spices to balance all these in our cooking! Because the pepper,jeera,coriander seeds and mainly garlic does this job. This can be a perfect combo for
more kuzhambu
or even with any simple
rasam
.
Again, this is a recipe I learnt from my MIL. We do even potato curry this way. I have already posted it.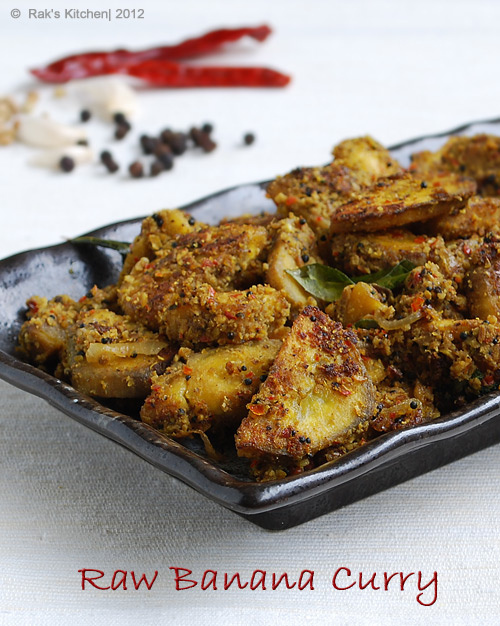 Raw banana dry curry recipe
Recipe Cuisine:
Indian
|
Recipe Category:
Lunch
Prep Time
:
10 mins
|
Cook time: 20 mins
|
Serves
:
3
|
Author
:
Raks anand
Raw banana curry, south Indian style vazhakkai dry curry with freshly ground special masala – its really spicy and flavorful!
Ingredients
Raw banana / vazhakkai – 1 big
---
Onion – 1
---
Turmeric – ¼ tsp
---
Salt – As needed
---
Coconut oil – 1 tsp
---
To temper
Oil – 1 tbsp
---
Mustard – ¾ tsp
---
Urad dal – 1 tsp
---
Curry leaves – 1 sprig
---
To grind to a paste
Coconut – 2 tbsp
---
Coriander seeds – 1 tbsp
---
Black pepper – 1 tsp
---
Cumin seeds – ½ tsp
---
Red chilli – 2
---
Garlic – 2
---
Method
Cut onion lengthwise, peel the skin of raw banana, slit lengthwise, slice them and keep immersed in water. Grind the ingredients under 'To grind to a paste' with little water to a little bit coarse paste.

Season with mustard, urad dal and curry leaves and add onions to fry till transparent. Add the cut vazhakkai along with the ground masala, ¼ cup water, salt and turmeric.

Mix well and cook covered for 4 minutes in medium flame. When the water evaporates completely, then keep frying until the masala turns golden in colour. Say about 3-4 minutes in medium flame.Add 2 tsp oil while frying. Lastly add coconut oil and mix well.
Notes
Use less water, otherwise curry may turn mushy.
Use more oil towards the end as it helps to turn the curry golden without sticking to the pan.
Coconut oil is a great flavorful addition to the curry.
Tags:raw banana curry, vazhakkai curry
Transfer to the serving bowl, flavourful curry is ready for accompanying your rice.