Red velvet hot chocolate is a perfect way to start Valentine's Day or any special occasion. A treat to eyes as well as chocolate lovers.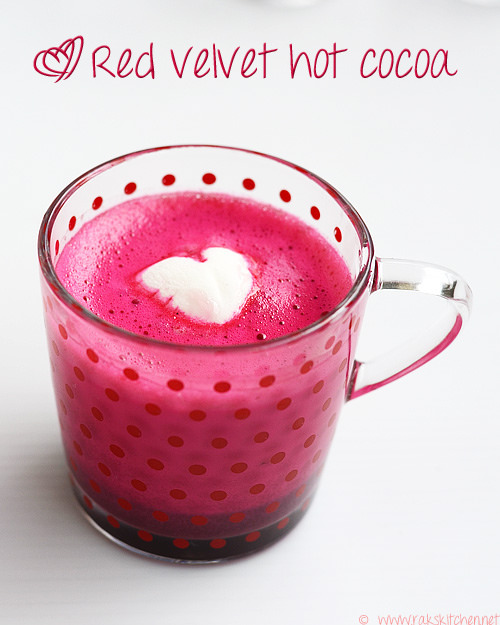 Ever since I saw the red velvet hot chocolate at Coffee Bean Singapore for the holiday season, I wanted to try it out. It looked so pretty in baby pink, crowned with white cream just as snow topping.
I wanted to post this red velvet hot cocoa along with the red velvet pancakes, but since I was busy, I left it as such that time, but I was finding time to post it, sooner.
So here, with Valantine's day coming up, I thought of posting this now. I have never posted any special Valentines day recipes here in my blog, but I found this as chance to post my pretty red velvet hot cocoa.
Though the one what I saw at coffee Bean was baby pink in colour, I had no idea how they got it.
May be they used white chocolate for it. But I made it this way, a bright pinky drink.
I realised I added a bit more of colour, so I have adjusted the colour measurement accordingly in the ingredients, so don't be surprized you get a slight difference in the colour.
Used pink colour, but you can use red too. But make sure to use liquid colour to avoid after taste that the powder artificial colours give. Also use natural food colors as much as possible.
So why not for a change, you guys make this for your GF/ wife this valentines day as a surprise for them and enjoy your evening happily together?
It's that easy, so don't miss to impress your valentine.
Red velvet hot chocolate recipe
Recipe Cuisine: Continental | Recipe Category: Beverages
Prep Time: 2 mins | Cook time: 3 mins | Serves: 2
Ingredients
Milk - 2 cups
Cocoa powder - 1 & ½ tsp
Red or pink liquid food colour - ¼ teaspoon – ½ tsp
vanilla essence - ¼ tsp
Sugar - 3 tsp
Marshmallows (optional) - For garnish
Method
In a microwave safe cup, mix cocoa powder, sugar, food colour, essence, a tablespoon of milk to a smooth paste.
2. Top it with milk and microwave for 2 minutes in high or until the milk starts to raise frothy. Do not let it boil.
Notes
You can do the same in stove top too, pour the mixed milk in the milk boiling pan and heat it in medium flame. When it is about to start boil, switch off the flame. Do not let it boil.
Top with Marshmallows if desired and enjoy hot, together with your loved ones.