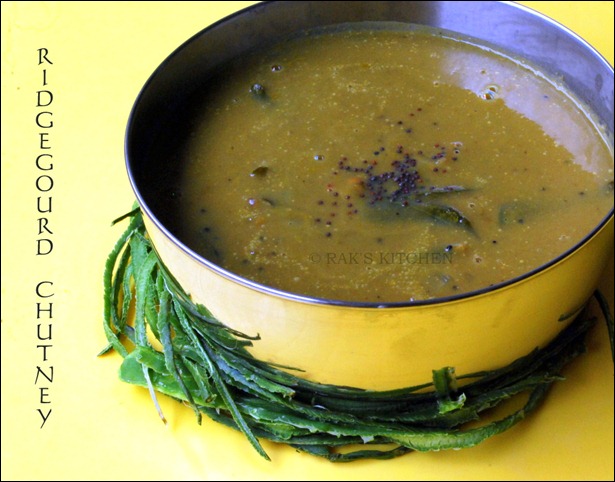 A simple gravy which goes well with rice. Though we call the gravy as chutney. As many will get confused,I just posted as gravy. After marriage when I made this for the first time,my hubby loved this so much,till date,he prefers this than sambhar…He just loves the crunchy onion chunks in the gravy. Me too for the same reason love this! We can make the same with yellow pumpkin and also potato. So here's the recipe!
Ridge gourd gravy recipe
Recipe Cuisine:
Indian
|
Recipe Category:
Lunch
Prep Time
:
5 Mins
|
Cook time: 30 mins
|
Serves
:
3
Ingredients
Ridge gourd – 1
---
Onion – 2
---
Green chilli – 5
---
Tamarind – Gooseberry sized
---
Turmeric(optional) – ¼ tsp
---
Salt – As needed
---
Asafoetida – ¼ tsp
---
To temper
Oil – 2 tsp
---
Mustard – ¾ tsp
---
Vendhayam/fenugreek seeds – ¼ tsp
---
Urad dal – ½ tsp
---
Curry leaves – 1 sprig
---
Asafetida – ¼ tsp
---
Method:
Peel the sharp edges alone of the ridge gourd as shown in the picture. Let some of the green skin be there in the vegetable.

Chop them in to chunks and pressure cook it with just little water sprinkled,say one or two tablespoons.

Cool down and grind it in to a smooth paste.

Extract tamarind juice and chop the onions into chunks. Slit the green chillies.

Heat a heavy bottomed pan with oil and season with the items given in the To temper table,in order.

Add the onion and green chilles,asafetida and fry till onions turn just transparent.

Add the tamarind extract and boil for 2 minutes. Add the ground ridge gourd,salt to it and adjust the water consistency if its too thick.

Boil for a 2 minutes and that's all,your gravy is ready!
Serve with steamed rice,ghee(optional) and any of the dry curries. I had with carrot beans poriyal!