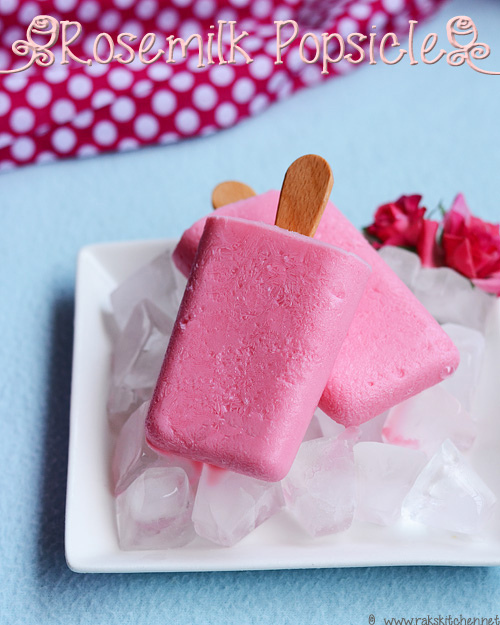 Rose milk ice or popsicle is childhood favorite for many. Rose milk's goodness in a Popsicle form! Learn how to make this rose milk posicle with step by step pictures! Perfect to beat the heat this summer.
Who can forger about the triangle rose flavored/ coloured kuchi ice (rosemilk popsicle). It tastes and smells divinely! Where ever I go to restaurants, I either have badam milk or rose milk if I am thirsty. I just love it. So I wanted to try it out at home. I just made rosemilk and poured into the popsicle moulds and it turned out yummy! With summer coming up, I am sure you will be looking for something cold and even kids would love to have something cold. So you can try this simple and easy popsicles for yourself and your kids. We usually make Rasna popsicles, but this is the first time I am making this milky popsicle. Do try it out and make your family happy!
Rose milk popsicles recipe
Recipe Cuisine:
Indian
|
Recipe Category:
Snack
Prep Time
:
12H
|
Cook time: 20 mins
|
Serves
:
4
Ingredients
Milk – 4 cup (1 litre)
---
Sugar – 2 tblsp
---
Rose syrup – 3 tblsp (or as needed)
---
How to make rose ice method
I boiled milk and reduced it to 1/2 litre and filtered it. You can skip this step and just boil 2 cups of milk.

Cool down and mix sugar, rose syrup and mix well.

Pour it to the popsicle moulds and freeze it. (I wanted to use popsicle sticks instead of the one we get with the moulds. So I cling wrapped and used a rubber band, pierce a slit with knife and inserted the popsicle sticks in it. You can use aluminium foil too and if you dont have moulds, just use any small tumbler.

Let it set for atleast 12 hrs and take it out, hold carefully under tap water (outer surface of the mould should be under tap water) and remove the popsicles.
Notes
Adjust the rose syrup and sugar according to ur sweet preference. But make sure the rosemilk is bit sweeter than you drink.
If you have rosewater, you can use it too without any artificial food colouring.
Enjoy the flavorful, tasty popsicles on a hot day and loose yourself to a nostalgic flashback!