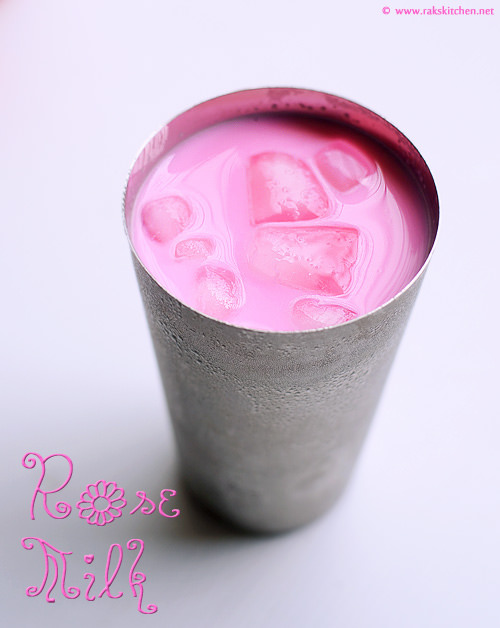 From the time I remember, the one and only drink I love to have is Rose milk 😍. I cannot explain how much I like it. Now a days in restaurants, we get a lot of drink options. But in my childhood, I had only this option in restaurants. But even mom make this now and then at home and we both love it a lot. Those days, no fridge too at home, so mom used to buy ice cubes from shop near by in summer and we used to make this and Rasna. There used to be too much excitement for these drinks those days. Now a days, we stock all possible drinks at home but nothing is tasting that same, its purely because we get it so often. After coming here, I used to buy Haldiram's rose syrup every year. We get few other south Indian brands that sell nanaari sarbath syrup too, but not consistently. This year I didn't buy any syrup, suddenly today thought why not try rose syrup instead. I had pink colour and essence in stock, so it was easy for me to prepare the syrup. So for this summer, this is enough for me as no one else will drink this at home. I hope this will be useful for this summer for you too.
My parents bought and gave fresh baby pink panneer rose this year, I made rose water with it for washing my face. Every time I wash my face with it, that smell tempting me to drink rose milk😉. Finally today I made and had !! You can make this
rose milk popsicle
I posted last year too with this syrup.
Rose milk recipe
Recipe Cuisine:
Indian
|
Recipe Category:
Drink
Prep Time
:
5 mins
|
Cook time: 12 mins
|
Makes
:
2 cups Syrup
Ingredients
Sugar – 2 cups
---
Water – 1 & 1/2 cup
---
Pink food colour – 3/4 tsp
---
Rose essence – 3/4 tsp to 1 tsp
---
Milk for making rose milk as needed
Method
Notes
I added 1 tsp of essence and it was good for me, use good quality rose essence.
Rose water is different from rose essence. If using rose water, you may need to add more.
This syrup should stay good for a month in fridge.
This sugar syrup must be enough for preparing 10 tumblers of rose milk.
Don't use low fat milk, use full cream milk for perfect taste.
You should boil and cool the milk for best taste.
Always serve chilled.
Use natural food colour and original rose water if available.
Rose milk tastes great only when had cold, so add ice cubes and chilled milk. Perfect for this super hot summer.