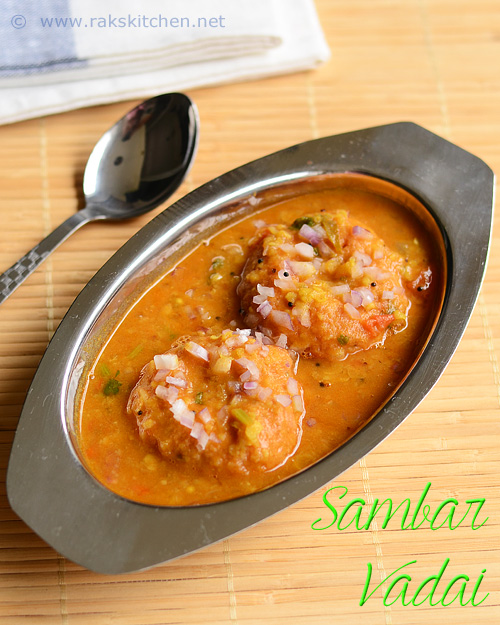 Sambar vadai is urad dal vadai, soaked in mild and flavourful sambar. I recently only developed taste for sambar vada, especially the one from Murugan
idli
shop. After their chutneys, I like their sambar vada. I have it often but the best sambar vada here in Singapore is from Nalan restaurant near Funan IT mall. Their sambar is the best and love their sambar vada a lot. Both these restaurants inspire me to try sambar vada at home. Mostly I make
thayir vadai
or
rasam
vadai only. Lazy to make sambar for sambar vadai 😛.
These days I soak only less urad dal and grind for festivals as it always goes for waste. We cook lot of things and it will be heavy to eat vadai too on top of it. This time for Ganesh Chaturthi I soaked more and ground in wet grinder especially to try sambar vada. Co incidentally, I saw the same in Vj TV show Samayal samyal. I have heard about making sambar by cooking raw onions, but never tried as I thought it won't smell good. When I saw in Tv, I thought why not give it a try and to my surprise it turned out really good. I adapted the recipe but only changed the method of making here and there to my convenience. And I know I am going to make this often here after until I get bored of this. You can either make vadas especially for making sambar vada or recylce the vadais already made too 😁. Just soak in hot water, make sambar and soak the vada in it.
Video for sambar vadai
Sambar vadai recipe
Recipe Cuisine:
Indian
|
Recipe Category:
Breakfast
Prep Time
:
3 hrs soaking time + 30 mins
|
Cook time: 35 mins
|
serves
:
6
Ingredients for sambar
Toor dal – ½ cup
---
Small onion – ½ cup
---
Tomato – 1
---
Green chilli – 2
---
Tamarind – 1 tsp tightly packed
---
Sambar powder – 3 tsp, heaped
---
Red chilli powder – 1 tsp
---
Turmeric powder – ¼ tsp
---
Asafoetida powder – ¼ tsp
---
Coriander leaves , chopped – 2 tbsp
---
Curry leaves – 1 sprig
---
Jaggery or sugar – ½ tsp
---
Ghee – 1 tsp
---
Oil – 1 tbsp
---
Mustard – ¾ tsp
---
Salt – As needed
---
For vadai
Urad dal – ½ cup
---
Black pepper – 1 tsp, powdered coarsely
---
Cumin seeds – 1 tsp
---
Salt – as needed
---
Asafoetida – a pinch optional
Method
Refer this post for detailed post with tips and tricks for making ulundu vadai.

For making vada, soak urad dal for 3 hrs and grind to a smooth paste with little water. Add salt, asafoetida and mix well.

Heat oil, grease your hands with water and make a ball out of it. Make a hole in the centre.

Drop in hot oil and cook in medium flame both sides until golden and crisp.

Drain in paper towel. Soak the vada in hot water. Add little salt in the water. Let it get soaked.

For sambar, pressure cook toor dal with 1 & ½ cups of water for 4 whistles in medium flame. Once done, mash it well. Add turmeric, red chilli, finely chopped tomato, peeled small onion, slit green chillies, curry leaves, tamarind extract. Soak tamarind in hot water for ½ hour and extract juice with a cup of water.

Pressure cook for a whistle. In a kadai, splutter mustard and lower the flame. Add sambar powder and quickly give it a stir.

Add the pressure cooked dal mixture to it.Mix well and adjust water consistency. You may have to add 1 & ½ cups water to 2 cups approximately. Bring to boil and add coriander leaves, asafoetida powder, jaggery or sugar and top with ghee. Switch off the flame.

Now gently squeeze the excess water in the soaked vada, without changing its shape and arrange in the serving bowl. Add hot sambar over it. Garnish with finely chopped onions before serving.
Notes
The sambar amount given here may give more than needed for sambar vadai.
Number of vadais depend on urad dal quality, if you grind in grinder or mixer.
Salt and tamarind should be less in this sambar so that the sambar is drinkable.
Adding ghee is optional.
Take care not to burn the sambar powder.
Since we fry the sambar powder in oil, it won't be that much spicy, so if you want to add spice increase red chilli powder and green chilli.
The urad dal can be slightly on coarse side. This will give you firm vadai.
The sambar gets thickened as it cools, so make sure the consistency is according to that.
Always serve hot! Add raw onions just before serving. We all loved it and for the first time Aj too ate it.